Healthy Gluten Free Pumpkin Bread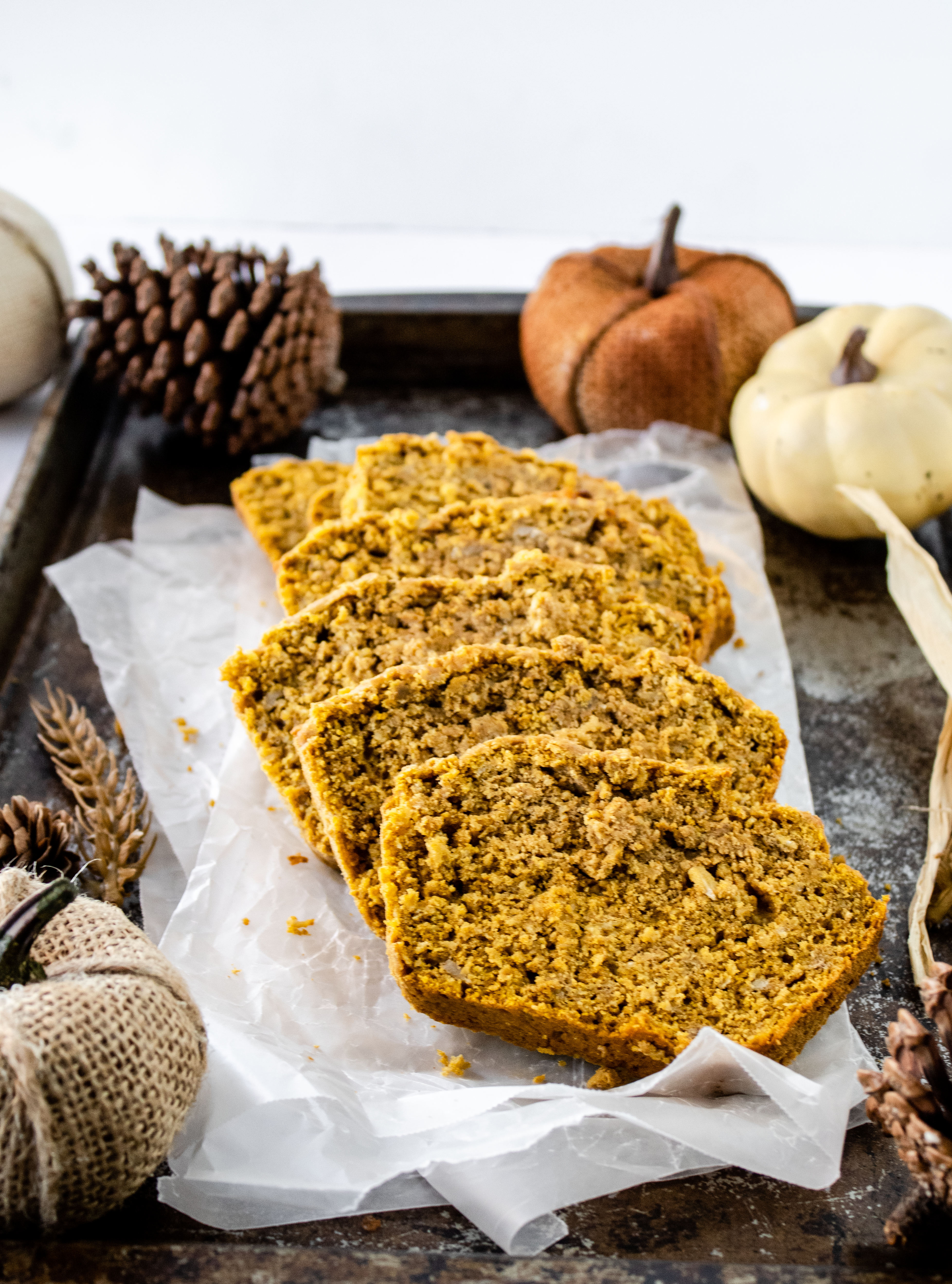 For a long time I've always thought of desserts and snacks as "extras." I guess because I think of these as extra calories/energy or treats outside of my usual meals. For example, if I complete a heavier workout, I know my body will need extra protein, carbohydrates, and calories. This is the point at which I would add a post-workout snack, something atypical on a day I didn't exercise. "Extras" don't always have to be for a specific need though, they could be added just because.
During the second and third trimester of pregnancy I have definitely needed a lot of "extras"! My energy requirements have increased, especially as I still maintain a healthy level of physical activity. I need to support my own body, plus my growing baby's. While I don't need to "eat for two" I am adding in a few extra snacks or desserts on a daily basis for increased caloric density and nutrition.
This means I tend to have at least one healthy baked good or some of kind of pre-made snack on hand, like oat cookies, black bean brownies, caramel apple muffins, or this healthy pumpkin bread!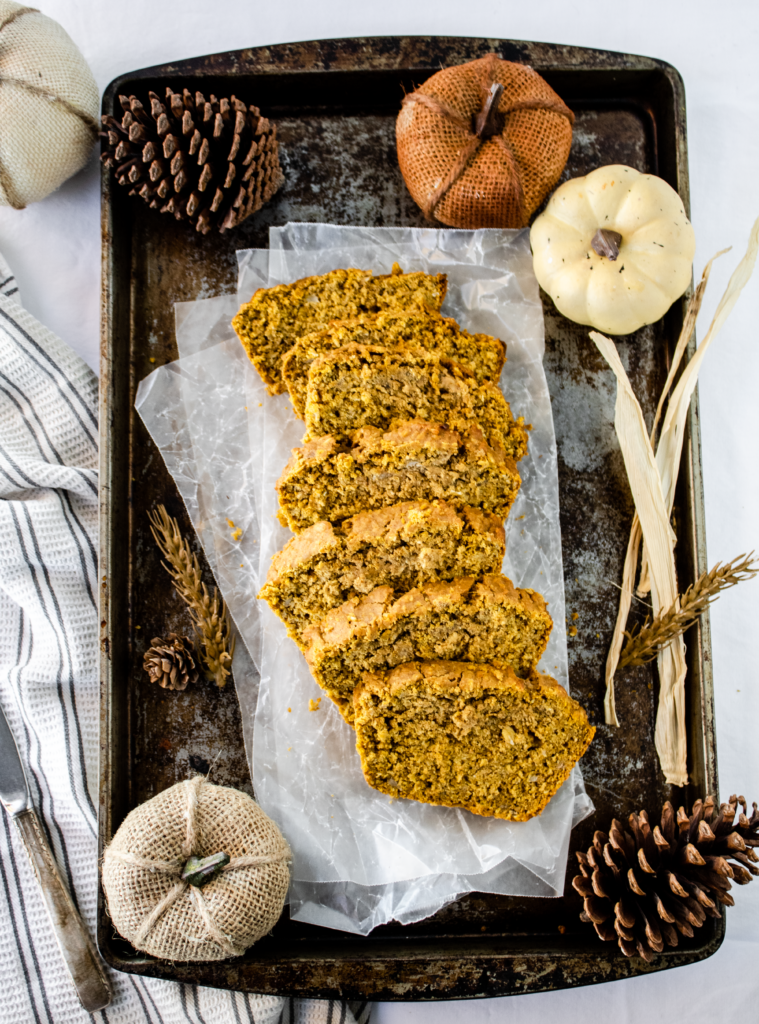 It's that time of year, and like everyone else I've been craving pumpkin anything, especially baked goods. During pregnancy, low volume, high energy density foods are often a necessity now as I'm hungry, need more energy, yet can't fit as much in my stomach as my growing baby takes up more and more space.
Enter: Healthy Gluten Free Pumpkin Bread. Pregnant or not, this is still a delicious and nutrient-dense "extra" for anyone else craving fall-themed baked goods, but still wanting something relatively healthy.
While it's totally fine to include baked goods that are not as nutritious, I just can't eat those things too often. If I made regular ole' pumpkin bread with as much sugar and butter as a traditional recipe called for, I'd want something that tastes good, but still offers some beneficial nutrients and supports both my and my baby's health.
This healthy gluten free pumpkin bread is exactly that! It's moist, fluffy, lightly sweet, and tastes delicious, yet is also good for you! There's not many baked goods that can accomplish this! This bread is filled with ingredients that contain high nutritional value, including buckwheat, oats, pumpkin, banana, and olive oil. You can read more about buckwheat and oat health benefits and nutrients here.
Pumpkin Health Benefits
Let's talk about pumpkin though, since that's really our star ingredient! Pumpkin is a winter squash and just one cup of canned pumpkin provides many vitamins and minerals:
1634% vitamin A
44% vitamin K
29% copper
20% manganese
20% vitamin B5
19% potassium
19% iron
18% magnesium
17% vitamin E
And 14% or less of nearly every other vitamin and mineral besides vitamin D and B12
Antioxidants
Pumpkin's rich orange color is due to antioxidants like beta-carotene. These antioxidants fight against free radicals, which contribute to cell damage and chronic disease development. Beta-carotene, along with vitamin A, lutein, and zeaxanthin help protect eyesight by strengthening eyesight and decreasing risk of age-related macular degeneration and cataracts (1).
The vitamin C and antioxidant content is also great for skin health due to many different factors. Vitamin C is a precursor for collagen development, which promotes skin elasticity. Antioxidants, specifically carotenoids, act as natural sunblock and help protect skin cells from UV ray damage (1). This is not to say though that if you eat enough pumpkin you won't need to wear sunscreen, definitely still do that!
Fiber
Pumpkin, oats, buckwheat, and banana all contribute to the fiber content of this healthy pumpkin bread, but the pumpkin definitely adds the most! Just 1 cup of canned pumpkin contains a whopping 7g of fiber (about 28% of the daily value)!
For reference, women are aiming for at least 25g of fiber per day, while men are aiming for about 38g per day. Fiber is incredibly important in so many ways, it would require it's own post (or really, multiple posts) to talk about! In general though, fiber is essential for aiding digestion and maintaining regulation, improving gut health (which contributes to immune and skin health), heart health (fiber helps regulate cholesterol levels), weight loss, and boosting energy levels through blood sugar regulation.
Okay, enough nutrition science and onto some baking and yummy treats!
Healthy Gluten Free Pumpkin Bread
Fluffy, lightly sweet, nutrient dense, yet delicious – a bread you won't regret making!
Ingredients
Dry Ingredients
1

cup

rolled oats

1

cup

buckwheat flour

I used Bouchard Family Farm brand, which is more subtle in flavor than other buckwheat flour brands

2

tsp

baking powder

2

tsp

pumpkin spice

1

tsp

cinnamon

1/2

tsp

salt
Wet Ingredients
1

cup

canned pumpkin

2

ripe bananas

1/3

cup

maple syrup

1/4

cup

olive oil

2

eggs

1

tsp

vanilla
Instructions
Add all dry ingredients to a food processor and blend for about 30-60 seconds.

Add bananas to a large mixing bowl and mash with a fork until smooth.

Add all other wet ingredients to the bananas and continue to mix until smooth.

Fold the dry ingredients into the wet ingredients.

Spray a loaf pan with baking spray and pour the batter into the pan.

Bake for 55 minutes, or until a toothpick comes out clean.

Let cool before slicing – if you can wait that long!
Sources
Raman, Ryan. 9 Impressive Health Benefits of Pumpkin. Healthline. August 28, 2018. https://www.healthline.com/nutrition/pumpkin.