Sustainable & Eco-Friendly Stocking Stuffer Ideas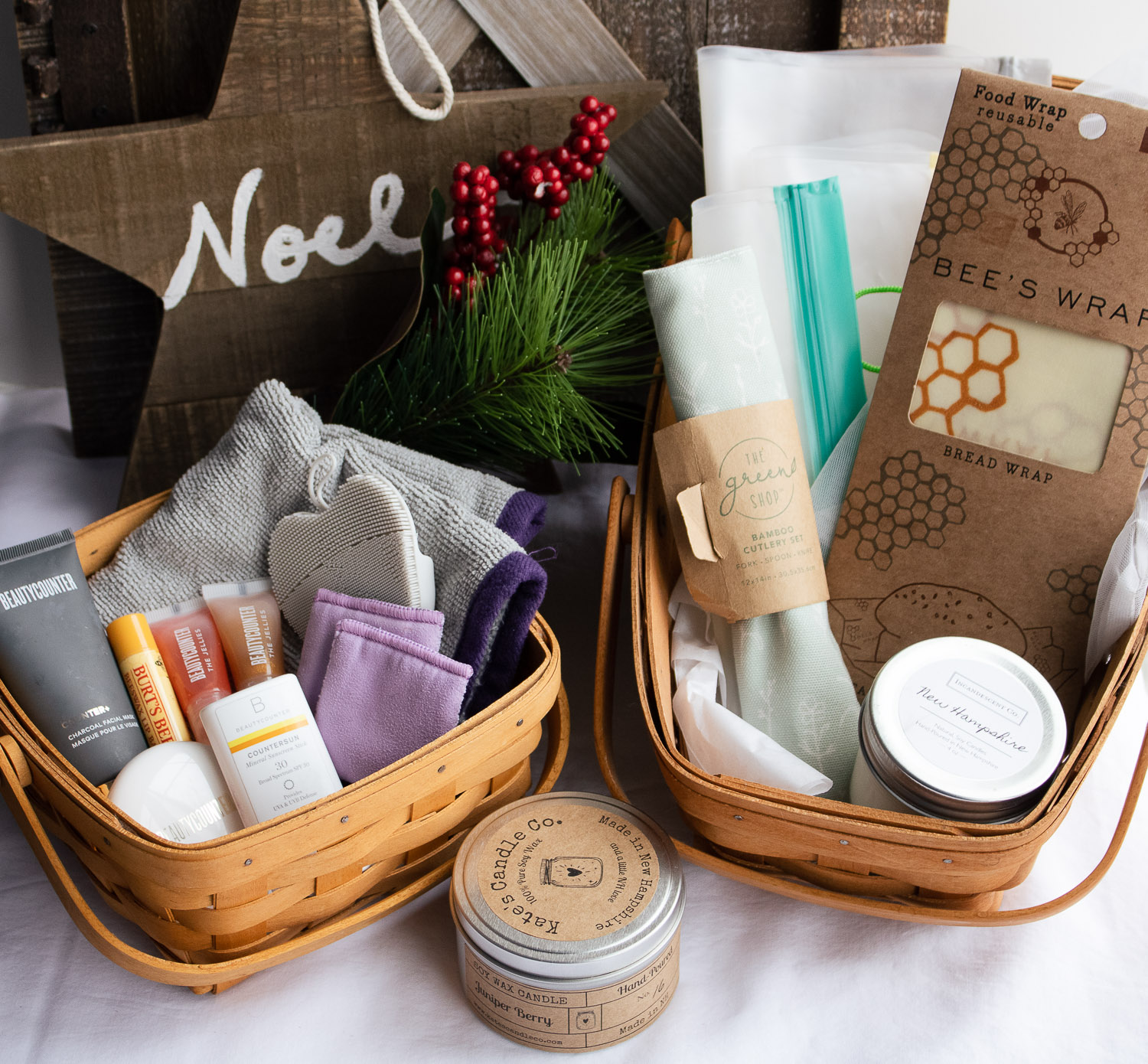 Disclaimer: This post contains some affiliate links. Any purchases made using these links will result in a small commission for me, but at no extra cost to you. All opinions are my own. You can read about my affiliate disclaimer here.
Does anyone else love giving gifts?! I do, despite the fact that it's actually my weakest Love Language! I especially enjoy giving gift baskets and stocking stuffer – type gifts. I don't really know know why. It might be because my mom LOVES stockings, so maybe it's rubbed off on me? Or I just like gifting multiple small things for people to use?
Either way, this is your guide to sustainable and eco-friendly stocking stuffer ideas! Use these gifts for stockings, small gifts, gift boxes/bags – whatever you want! Most of these items I personally use and love, have given as gifts in the past, or plan to give in the future.
Beauty & Skincare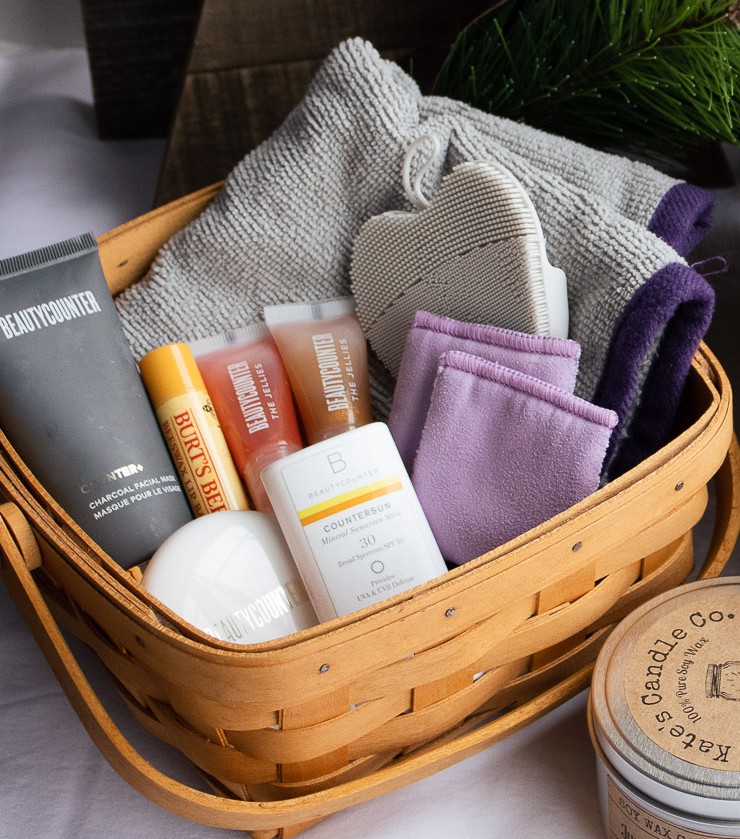 From Beautycounter:
From Norwex:
Reusable Facial Pads – I got these last year in my stocking, and they're awesome! They remove makeup well and wash out mascara. Plus, because you get five, I always have at least one on hand even while a few are in the wash.
Body Cloths – I also received these last year and they are great too! I especially love how absorbent and soft they are. I pretty much never use regular face cloths anymore.
From Amazon:
Silicone Cleansing Pads – Comes in sets of two to three, so great to split up if desired. I recently tried these and love them. My face always feels super soft and smooth after using because the tiny bristles aren't too harsh or abrasive. Since I'm not using my hands to cleanse, I also prevent extra oils from getting on my face. I got a pack of three, kept one and am gifting the other two!
Burts Bees Lip Balm (Peppermint) – My absolute favorite Lip Balm. I've gotten this set of four as a stocking stuffer before, but have also gifted it by dividing it up.
From Etsy:
Reusable Cleansing Pads – Great for applying toner without going through tons of cotton balls or pads! I have similar ones to this and love them!
Reusable Q-Tips – I almost put these on my Christmas list this year, but decided to just order them instead!
From Native:
Holiday Mini Deodorants – As long as you know you won't offend anyone, these seem like a fun stocking stuffer!
Plastic Free Deodorant – The container is made of paperboard from responsibly managed forests.
Kitchen, Food Storage, & Grocery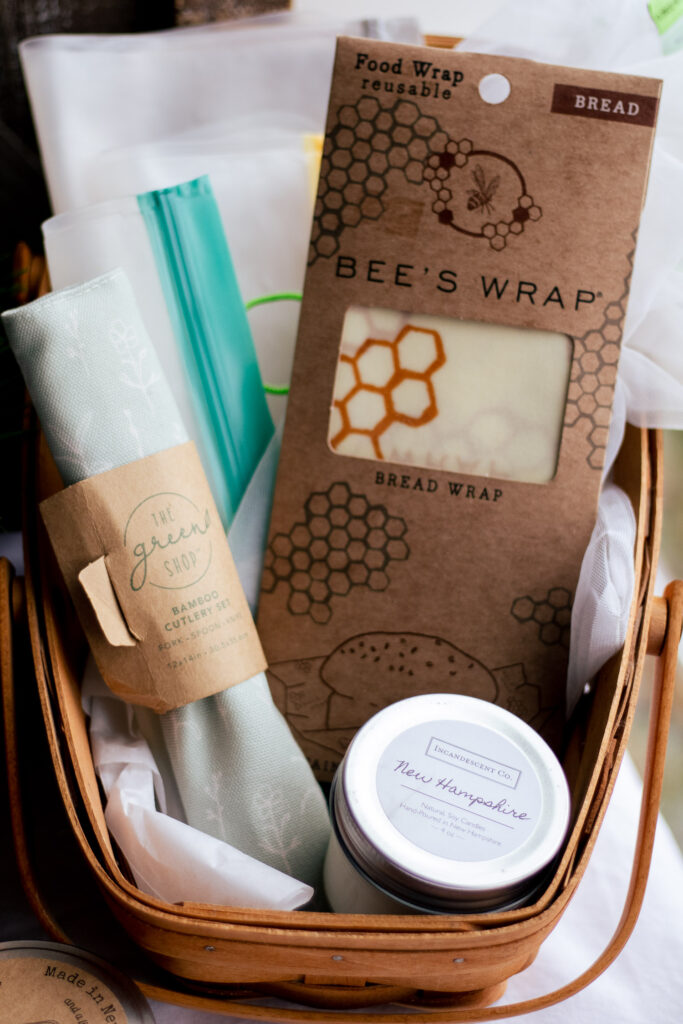 From Amazon:
From Etsy:
Cloth Produce Bags – Just another option if you like the look of these better.
Reusable Utensil Travel Set – I'm planning on gifting a set as part of a gift basket to one of my friends this year. Who hasn't gotten caught without utensils on hand while traveling?! Anyone ever done the ole' turn the foil yogurt top into a spoon thing? No? Just me? Okay..moving on!
From Norwex:
Kitchen Cloth – Yet another Norwex product I got last year and it's awesome! They are reusable and wipe away pathogens using only water!
For The Home
Non-toxic candles (find some brands here and here – I usually find mine locally or at craft fairs & farmer's markets) – I mean, you can never have too many candles, surely? And something you really want to avoid is parabens and phthalates, which hide in "fragrances". These endocrine (hormone) disruptors are linked with reproductive, brain, immune, developmental and other issues. You'll also want to look for a healthy and sustainable wax such as 100% soy or beeswax. Unlike paraffin wax (a petrochemical byproduct), which is often used to make candles and can be contaminated with cancer causing compounds (1), soy and beeswax are both non-toxic waxes AND they last way longer! The first time I used a soy-based candle I was amazed. It burned for hours and barely made a dent. Cheap Walmart candles? They're practically gone in an evening. Sorry, Walmart. Another factor to look for is the wick: choose those that are 100% cotton, hemp, or wood – not metal, which can release heavy metals when burned (2).
Wool Dryer Balls – I stopped using single use scented fabric softeners a loooong time ago! These work wonderfully, are unscented (again, "frangrance" is an issue), and can be used for YEARS!
Sources
Candle Use Linked to Cancer. BBC News. August 20, 2009. http://news.bbc.co.uk/2/hi/health/8211543.stm.
Wasson, Shirley J., Guo, Zhishi, McBrian, Jenia A., Beach, Laura O. Lead in Candle Emissions. Sci Total Environ. 2002 Sep 16;296(1-3):159-74. doi: 10.1016/s0048-9697(02)00072-4.