Easy Weeknight Lentil Curry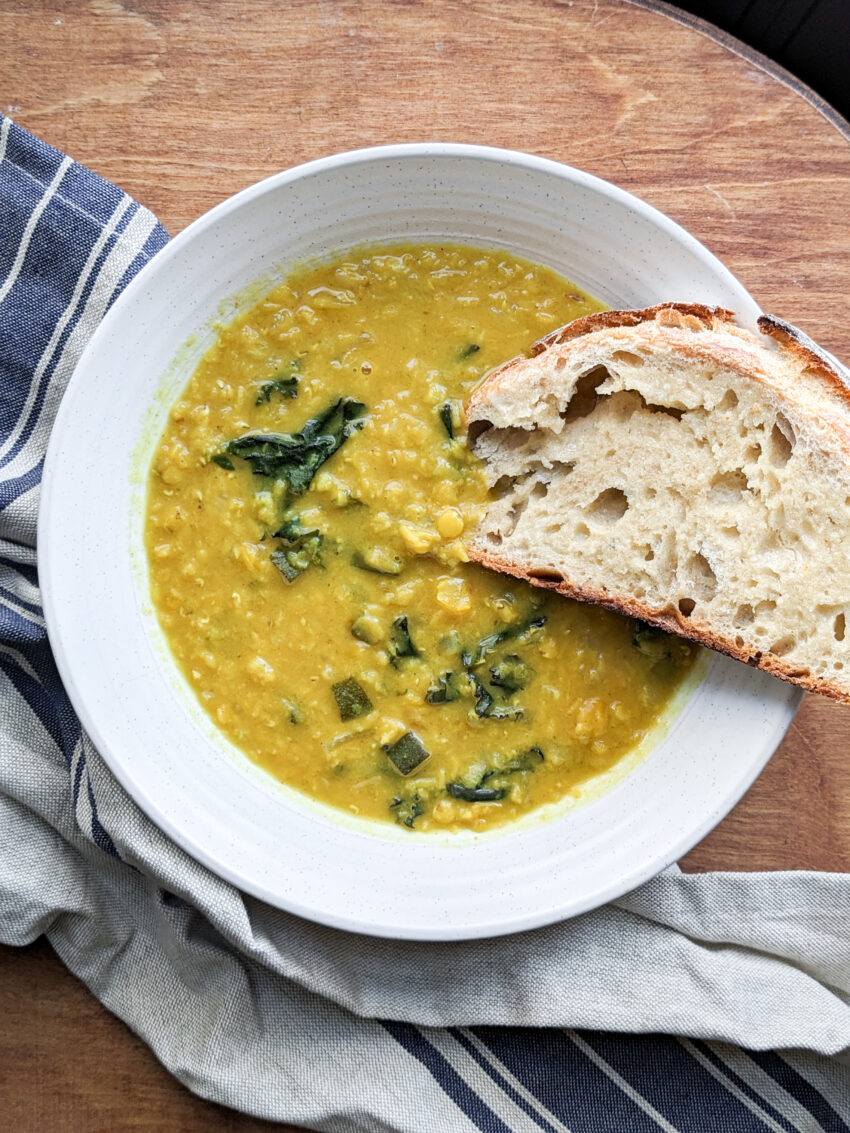 When I'm working with patients, one of the most common things I get asked about is meal ideas or recipes that are quick and easy, like this lentil curry. Whether it's because people dislike or don't enjoy cooking, don't know how to cook, or live a busy lifestyle, many of us want easy meals, especially mid-week when we have less time!
That's exactly how this recipe came to be. I may have been craving curry, but I was also looking for easy recipes I could throw together during the week when it was just my son and me and my husband was working late. It can be tough to put an easy meal together after a long workday on your own, let alone when you're also a busy parent with kids!
Luckily, there are a number of meals that can be made in no time, while still being healthy and nourishing for you and/or your whole family. This lentil curry is not only easy, but it's quick, tasty, nutritious, and one of the homemade meals my toddler will actually eat (that's not mac & cheese)!
What makes this lentil curry easy?
Minimal ingredients: There are only 11 ingredients needed to make the lentil curry, and only a handful of them are spices/seasonings. I'm not going to lie, if I see a recipe with too many ingredients, especially a bunch of spices, I usually find a new one.
Minimal prep: All you really need is a cutting board and knife (if that) and stock pot to throw these ingredients together. Again, if a recipe requires making a bunch of dishes and measuring too many things, I skip it (or eyeball way too much haha).
Quick prep: Not only is the prep for this recipe minimal, it's also quick. Most of the time in this recipe involves waiting for the lentils to cook, otherwise, you pretty much just throw stuff in a pot and leave it! Now that's my kind of weeknight recipe.
What makes this recipe healthy?
It can be tough sometimes to find a recipe that's both easy, quick, AND nutritious. Oftentimes it seems like one area is compromised, which is why I get so many questions about this!
This lentil curry, however, has it all! The lentils themselves are highly nutritious because they are full of plant protein, fiber, and a number of vitamins and minerals such as potassium, iron, manganese, zinc, B vitamins, including folate (which is vital for fertility and a healthy pregnancy).
The onions, peppers, garlic, and optional kale or spinach offer additional fiber, vitamins and minerals, as well as antioxidants, which are needed to support overall health including a healthy immune system and gut function.
Olive oil is a incredibly healthy fat for cholesterol and overall heart health. If using extra virgin olive oil, this also adds antioxidants that support gut health and the immune system, while also preventing the oils from oxidizing during the cooking process.
This lentil curry has become one of our go-to recipes for an easy weeknight meal. I hope you enjoy it as much as we do!
Easy Weeknight Lentil Curry
Quick and nourishing lentil curry that's easy enough for a go-to weeknight meal.
Ingredients
1-2

tbsp

olive oil

1

large

onion, diced

1

red

pepper, diced

OR one 16 oz bag of frozen peppers and onions

2-4

cloves

garlic, minced

a recipe can almost never have enough garlic

1

tsp

ginger, grated

1

tbsp

curry powder

2

cups

red lentils

4

cups

vegetable stock/broth

1

can

coconut milk

Light or full fat coconut milk works

1/2

tsp

salt

1

tbsp

lime juice

1

bunch

kale, de-stemmed and chopped (optional)

or a few handfuls of spinach
Instructions
Heat a stock pot over medium heat, add the olive oil, onion, and pepper (or frozen peppers and onions if using)

Saute onions and peppers until they become soft, then add garlic and saute another minute.

Add ginger, curry powder, and lentils, stir.

Add stock, coconut milk, and salt. Bring to a boil.

Once boiling, lower heat to a simmer and cook for about 20 minutes longer or until lentils are soft and cooked through.

While the lentils are simmering, and rice is cooking, prepare the kale.

Heat a pan over medium heat, add olive oil, and saute the kale until bright green. Add seasoning to your liking (I use garlic powder and salt)

Once lentils are cooked, add lime juice.

Use an emulsion blender to blend about half the curry, or transfer half to a blender and return the mixture to the pot.
Notes
To make this recipe even easier, you could simply stir in raw kale or spinach until wilted and bright green. I just prefer crispier kale with a little more flavor. This recipe is great and more filling when served with rice or a hearty bread, like sourdough.