Healthy Caramel Apple Muffins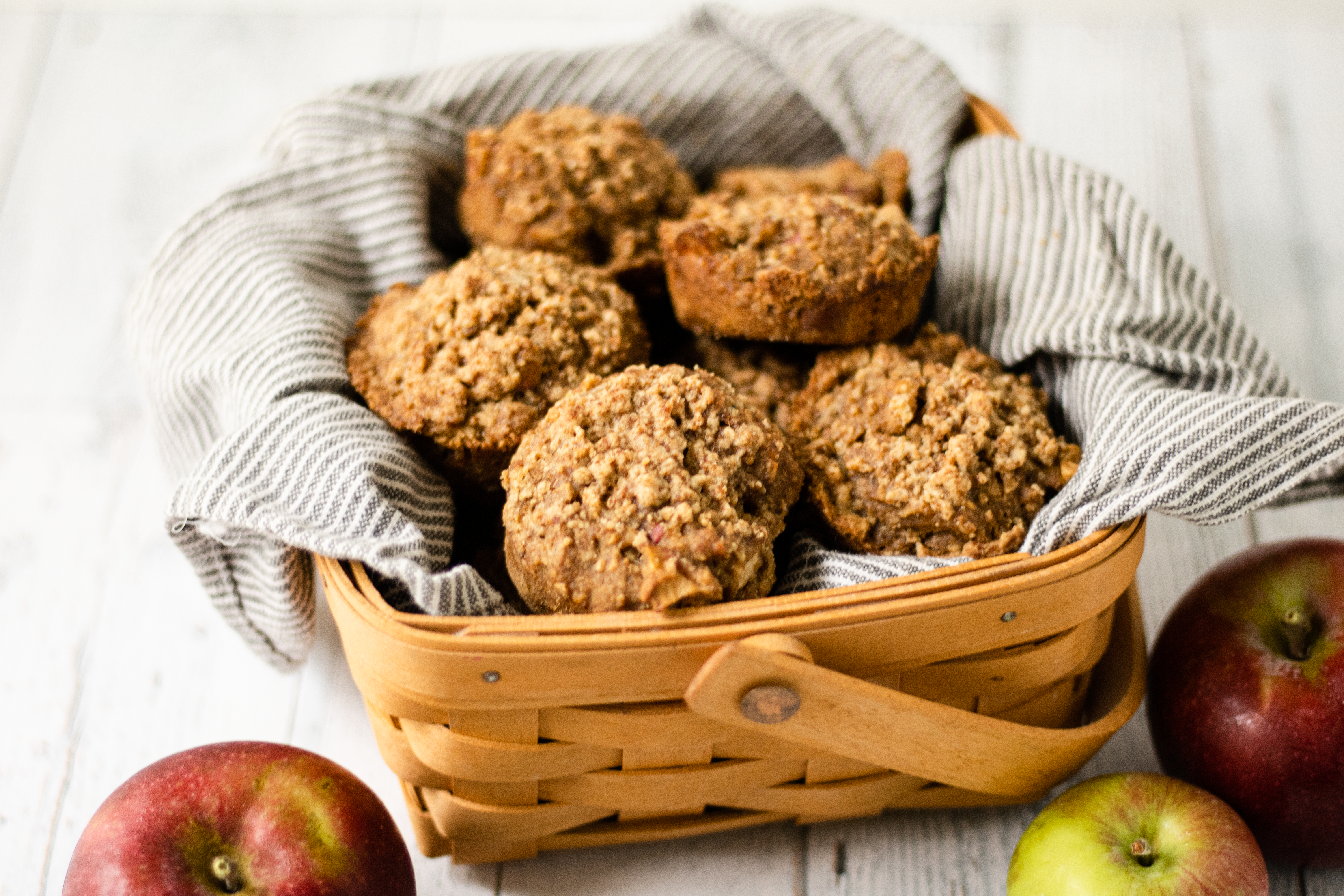 It's apple season! One of my favorite times of the year! I absolutely love fall – the colors, the temperature (in northern New Hampshire the air is crisp and refreshing while the humidity and heat begins to subside, and the sun is usually still shining), the activities (apple picking, pumpkin carving, etc.), and of course, the flavors! Cinnamon, nutmeg, pumpkin spice – you name it. All the spices that go with the season's fruits and vegetables, like apples, oranges, and winter squashes. How about you? Are you a fan of fall, too?
I've been asked before if the old saying "an apple a day keeps the doctor away" is actually true. While I found no research to specifically prove this, apples are very nutrient dense and do contain many health benefits! So, you know, it doesn't hurt.
Although, according to Healthline, one study did find that eating an apple a day was linked to a 28% lower risk of type 2 diabetes compared to eating no apples! (1)
Other benefits include:
Aiding digestion & potentially improving heart health due to fiber and probiotic content. The average apple has 4 grams of fiber
Apples are rich in polyphenols, which may help reduce inflammation, cancer risk, and asthma risk, as well as improve gut, heart health, and bone health.
Potentially aiding weight loss and feelings of satiety due water content volume and fiber.
Possibly reducing risk of diabetes
Boosting energy (1)
Some of these benefits are found in the skin though. For example, half the fiber content of apples is in the skin as well as those antioxidant compounds. So, if you don't mind the taste/texture, try to keep the skins on when making things like applesauce, apple crisp, and these caramel apple muffins!
Personally, I like the skins and think that if I keep them on I'm a) getting more nutrients, b) don't have to peel them, and c) creating less food waste. Seems like a win-win-win to me!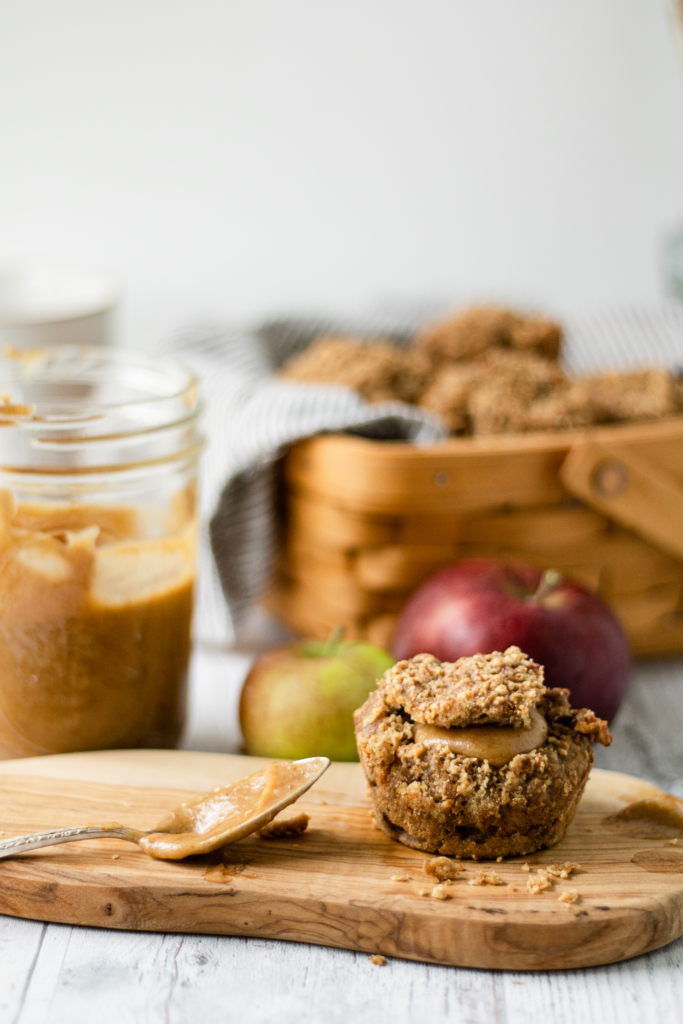 When I searched for a healthy apple muffin recipe, I couldn't quite find what I was looking for. Besides, we had also run out of all-purpose gluten free flour (or so I thought until I found some to make the crumble later on when re-testing the recipe). But, I'm happy about it! Because now, while I still consider these muffins a treat, they're made healthier with whole grains, like oats and buckwheat.
These two grains, or rather one grain (oats) and one "pseudograin" (buckwheat) are good sources of fiber and other nutrients. One serving (1/2 cup) of oats is considered a good source of vitamin B1, copper, iron, magnesium, and zinc, and an excellent source of selenium, phosphorus, and manganese. One serving of buckwheat flour (1/4 cup) is a good source of vitamin B1, B3, and B6; copper, phosphorus, and zinc, and an excellent source of magnesium and manganese. Whoa! That's not quite as nutrient-dense when compared to vegetables, but for grains, it's pretty dang good!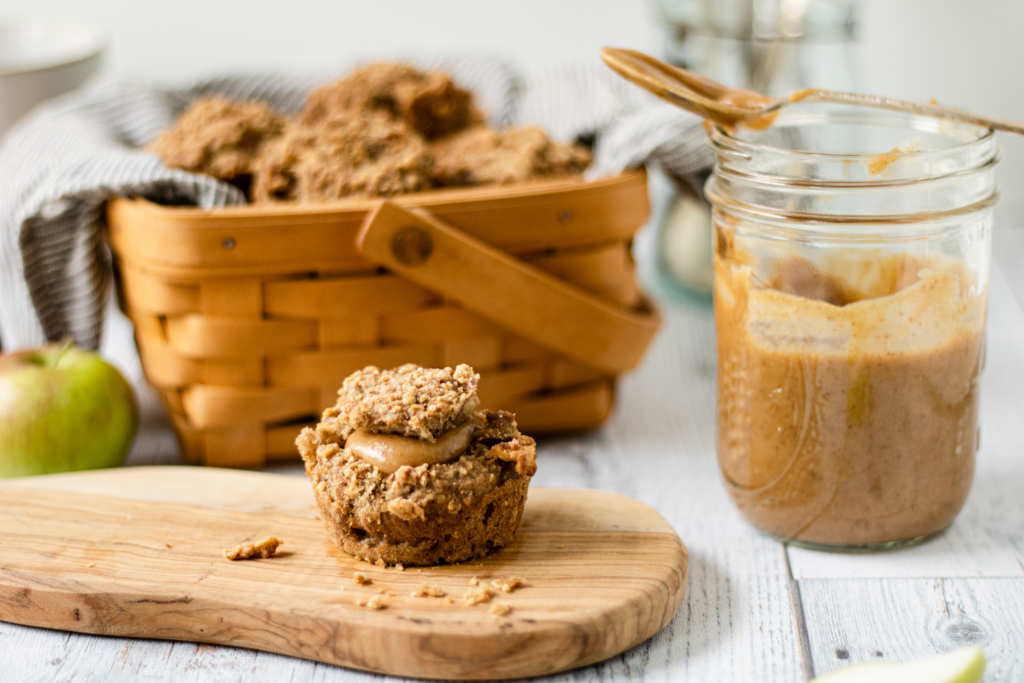 Between the nutrient-density of the whole grains, use of multiple fruits (I didn't even talk about banana or date benefits!), and low refined sugar, I feel confident giving these caramel apple muffins "healthy" status, which cannot be said for many baked goods. Some desserts and treats are absolutely delicious, but have very little nutritional value, and that's okay! Those are still fine to enjoy on occasion. These muffins just happen to be both!
This caramel apple muffin recipe may seem daunting, but, the crumble topping and caramel date filling are both optional. You won't get much caramel flavor, but you will still get a mouthful of fall spice and apples. Enjoy these caramel apple muffins with a bit of soft butter or nut/seed butter (peanut, almond, sunflower seed, etc.) for a more filling and delicious snack. I've been eating them lately as a bedtime snack during pregnancy!
Healthy Caramel Apple Muffins
These muffins are subtly sweet, made with whole grains, and make the perfect fall snack or treat!
Equipment
food processor

12 cup muffin tin

blender (optional)
Ingredients
Dry Ingredients
1

cup

old fashioned rolled oats

1/2

cup

buckwheat flour

I used Bouchard Family Farms brand, which is more mild in flavor than some other buckwheat flour brands

1.5

tsp

baking powder

1

tsp

cinnamon

1/4

tsp

nutmeg

1/4

tsp

allspice
Wet Ingredients
1

banana

1/2

cup

applesauce

or one 4 oz single serve container

1/3

cup

coconut sugar

3

tbsp

olive oil

1

tsp

caramel and/or vanilla extract

I've done 1 tsp caramel and 1/2 tsp caramel, 1/2 tsp vanilla

1

egg

1

apple
Crumble Topping (Optional)
2

tbsp

cold butter

4

tbsp

all purpose gluten free flour

3

tbsp

coconut sugar
Caramel Date Filling (Optional)
1

cup

pitted medjool dates

3/4

cup

coconut milk

pinch

salt

1/2

tsp

vanilla
Instructions
Caramel Date Filling Part 1 (if using)
Boil water and pour it over the dates. Let sit while making the muffins.
Muffins
Preheat the oven to 350°F.

Add all dry ingredients to a food processor and blend util the oats mostly resemble flour.

Add all wet ingredients in a medium-sized bowl and mash/whisk with a fork until well-combined

Fold the dry ingredients into the wet ingredients, and let the batter sit (it will seem quite wet).

While the batter sits, finely dice the apple, then fold the apple pieces into the batter.

Spray a 12 cup muffin tin with spray oil and distribute batter evenly between each cup. I used a scoop to do this, but you could use a spoon.

Add crumble topping if using. Bake for 25 minutes, or until a toothpick comes out clean.
Crumble Topping
Combine butter, flour, and sugar together using a fork, pastry cutter, or food processor until it resembles crumbs.
Caramel Date Filling Part 2 (if using)
Drain the dates and add to a blender.

Add remaining ingredients and blend until smooth.

Once muffins are cooled and ready to serve, run a knife through the center of the muffin top at an angle to remove a small portion.

Add a dollop of caramel date filling and replace the piece of muffin top.

Enjoy! These muffins can be stored in the fridge for about a week, or in the freezer for up to 3 months. The date filling will only last a few days in the fridge. Making this recipe again, I would try using coconut or almond milk from a carton as opposed to a can.
Sources
Jennings, Kerri-Ann. Healthline. 10 Surprising Benefits of Apples. December 17, 2018. https://www.healthline.com/nutrition/10-health-benefits-of-apples.