Healthy Hot Cocoa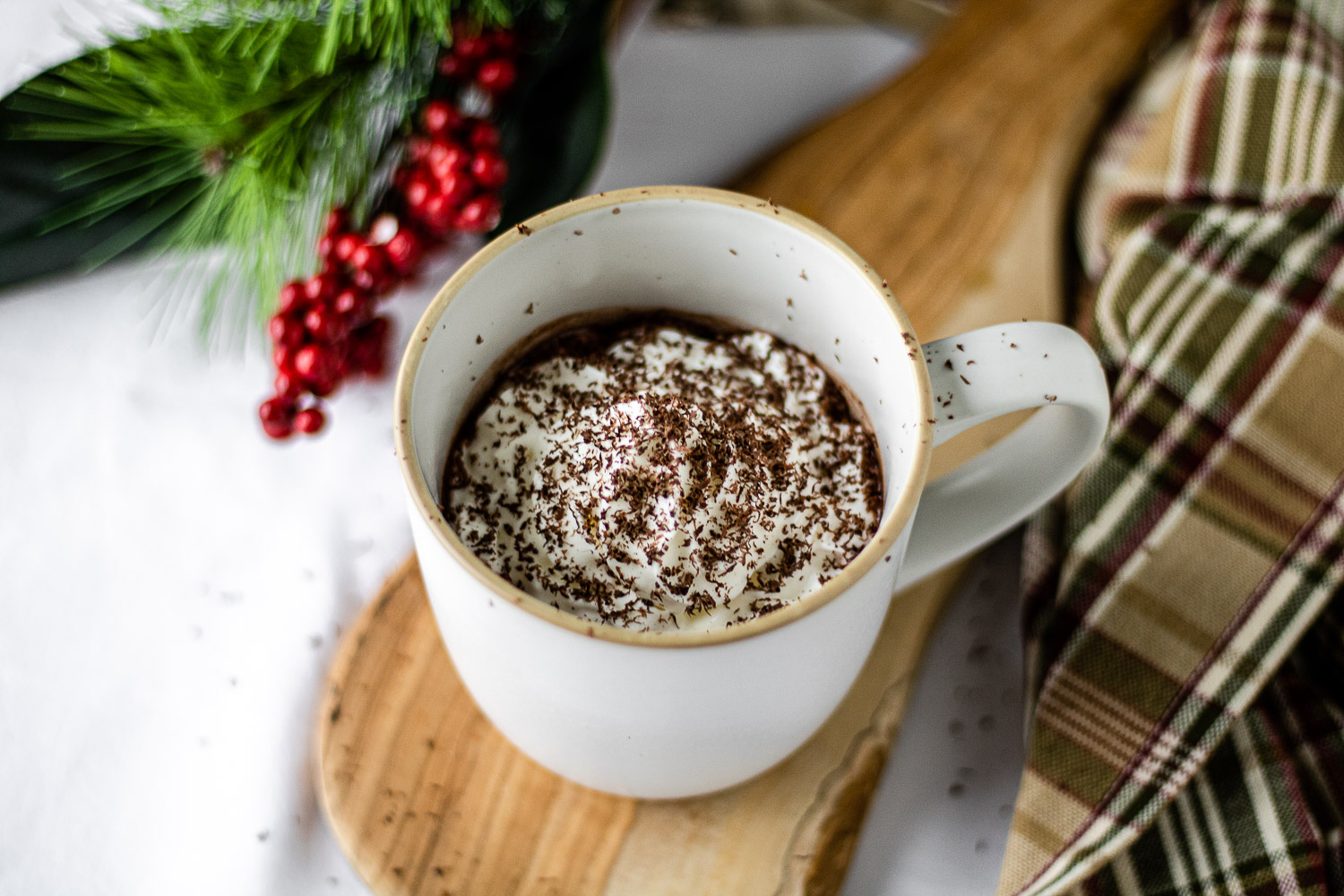 I looove hot cocoa. Especially around Christmas time (I mean, who doesn't?!). Its warm, cozy, and delicious. I can recall my sister and myself eating hot cocoa mix straight from the packets when we were younger – ha! Although it was tasty, it really defeated the purpose of a hot drink.
As I've gotten older though, regular hot cocoa is waaay too sweet! Also, I can't do a lot of dairy – especially the powdered milk that usually comes with those packets. So, I've been making my own version of hot cocoa for years now, and I thought it was finally time to share one of those versions with all of you!
Side note, I am currently writing this while catching up on The Bachelorette. And can I just say, did Chris S. really think he was doing something right?! I'm confused. His words definitely felt hypocritical to me. And then to interrupt her one-on-one? I am not surprised he was sent home immediately. Anyway, I mostly watch The Bachelorette/Bachelor as something to listen to in the background, but that situation just really got to me.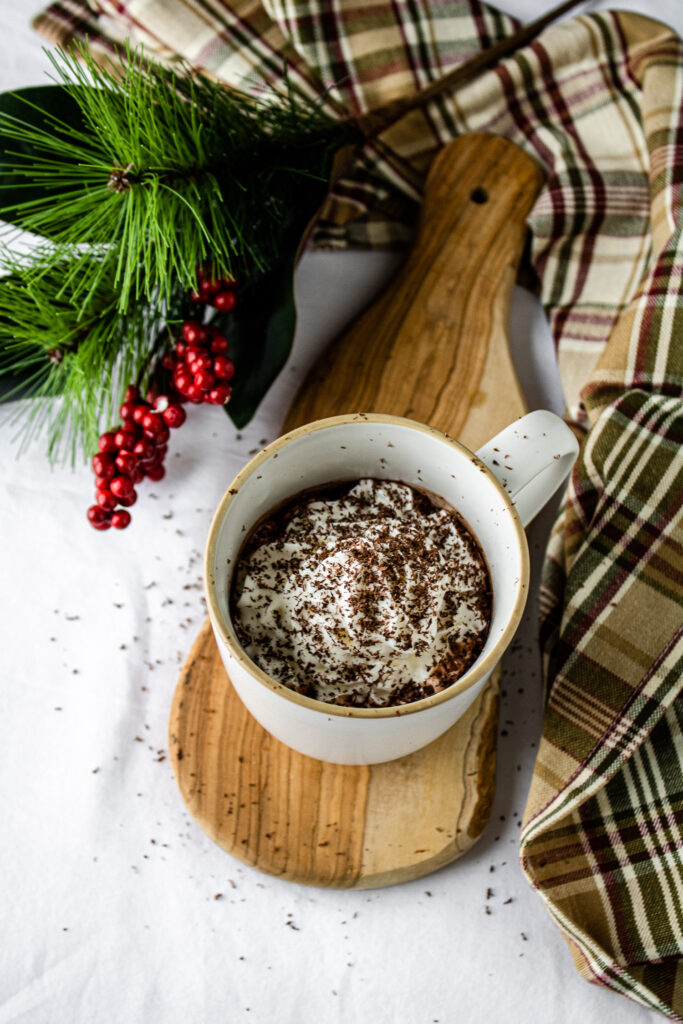 I'm also writing this at 39 weeks pregnant, which is crazy. It felt like it came up so fast! This means we will have a newborn baby sometime around Christmas (hopefully before unless I have him reeaally late)! So, we are prepared MUCH earlier this year. Our tree is up and ornaments are hung, decorations are up in the living room, and the gifts that have come in (which is most of them) are wrapped and under the tree. It feels so good!
And it's making me feel all the holiday feels even more so. I love it. It's always been an aspiration of mine to be ready early, but I am such a procrastinator it never happens. This year though, I've had a lot more motivation: to be stress-free about Christmas with a newborn. Plus, at one point we were still in the process of moving to our current place (parent's basement), and I was totally nesting, yet couldn't do anything. So, I put my energy into the things I could plan and organize!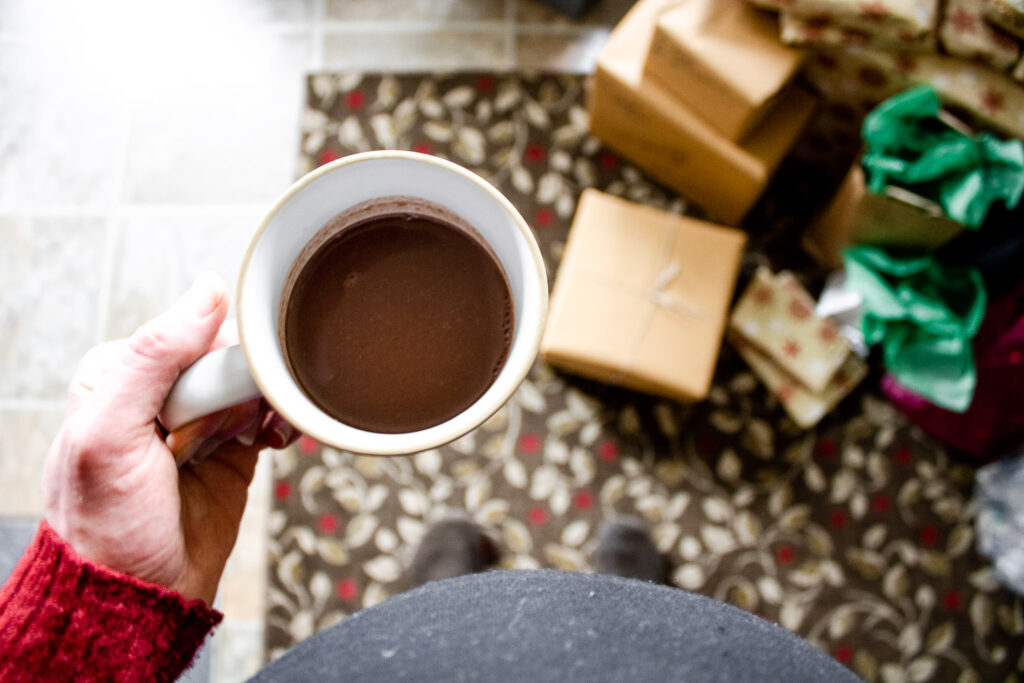 So, what makes this healthy hot cocoa?
First of all, this recipe uses maple syrup or honey, which are still considered added sugars, but at least have a tad bit more nutrients than regular ole' white sugar. Plus, the amount used is much less than you'd normally find in a standard hot cocoa mix. You could absolutely use more maple syrup or honey than the recipe calls for, though. Sweetness is VERY subjective, so what tastes sweet enough to me, could be very bitter to you, and vise versa.
Alternatively, I've made this recipe many times with a few drops of liquid stevia instead of maple syrup. So, that's an option too, although I do recommend limiting non-nutritive sweeteners when and where possible. They send mixed messages to our body and brain as to what kind of energy is coming in.
The reason we don't want too much sugar in general is because too much can really begin to harm our health in many ways. Chronic intake of excess added sugar can lead to the development of, or exacerbate, conditions including heart disease, diabetes, hormonal acne, fertility issues, low energy, joint pain, etc. Really anything that involves inflammation since consistently high blood sugars is inflammatory.
Do you know how much sugar is in a regular packet of Swiss Miss?! Well, I just looked it up: 23 grams of added sugar. That's almost 6 teaspoons! Which is actually the limit for women according to recommendations from the American Heart Association: 6 teaspoons (or 24 grams) for women and 9 teaspoons (or 36 grams) for men.
How am I getting that? Easy: 4 grams = 1 teaspoon. This is a fun trick to use at the grocery store when looking at food labels. And When I say fun, I really mean helpful, but also kind of depressing. Sometimes knowing how much sugar is in one serving is really sad. Like Oreos. Three and a half teaspoons in only THREE cookies! Ugh.
Anyway, having regular hot cocoa is fine, it just means you may want to limit other sources of added sugar like other desserts as well as sandwich bread, ketchup, BBQ sauce, cereal, granola bars, or anything else with added sugar.
Okay, okay, I'm not that strict. If you had other sugar it would probably be alright that one day. But, you wouldn't want to do that often. So, if you really like hot cocoa, might I suggest a healthier, lower sugar version?
Other benefits
Well, I talked about sugar more than intended, so I'll try to keep it quick on other reasons this hot cocoa is healthy. Cocoa powder, especially dark cocoa has antioxidants, making this hot cocoa recipe somewhat anti-inflammatory (while regular hot cocoa is inflammatory from all that sugar).
Collagen has many benefits as well, including aiding the growth and strength of hair, skin, nails, and the intestinal lining.
Coconut milk, to be honest, is still up in the air on whether or not the fats are healthy. Current research still suggests limiting saturated fats, including those from tropical oils/foods. Some dietitians, though have talked about the difference between the medium chain triglycerides in coconut vs. other saturated fat-containing foods, as well as other health benefits. So, I tend to treat it as something that could be healthy, but that's still high in fats and calories as a whole. Healthy or not, I wouldn't eat a whole jar of peanut butter in one sitting, just like I wouldn't want a whole can of coconut milk at one time. You can, in fact, get too much of a good thing. For some people (myself included), genetics does not support a higher saturated fat intake, contributing more-so to development of heart disease than others.
As the recipe states, you can use a lighter versions of milk, which would both have less saturated fats and calories. It may not be as creamy, but will still be delicious! The thing about having fats in this recipe, though, is that it does balance out the sugar, making it digest slower, be more filling, and prevent blood sugar spikes.
Healthy Hot Cocoa
Healthy, creamy, dairy-free, delicious hot cocoa recipe.
Ingredients
2/3

cup

canned coconut milk (full fat) or whole milk

if you want to make a lighter version, use lite coconut milk, 1% or 2% milk, or your choice of other non-dairy milk

2/3

cup

unsweetened vanilla almond milk

or more milk of choice

2

tbps

dark cocoa powder

I used Hershey's special dark

1

tsp – tbsp

maple syrup or honey

if you want it sweeter, use additional maple syrup to taste

1-2

scoops

collagen powder
Instructions
Add coconut milk and almond milk to a small sauce pan and bring to a simmer.

As the milk begins to heat up, add cocoa powder and maple syrup and whisk until mixture is completely homogenized.

Add liquid to a blender along with the collagen and blend until frothy.

Pour into mugs and enjoy on it's own, with whipped cream, shaved chocolate, and/or marshmallows.