Blender Banana Muffins (GF, DF)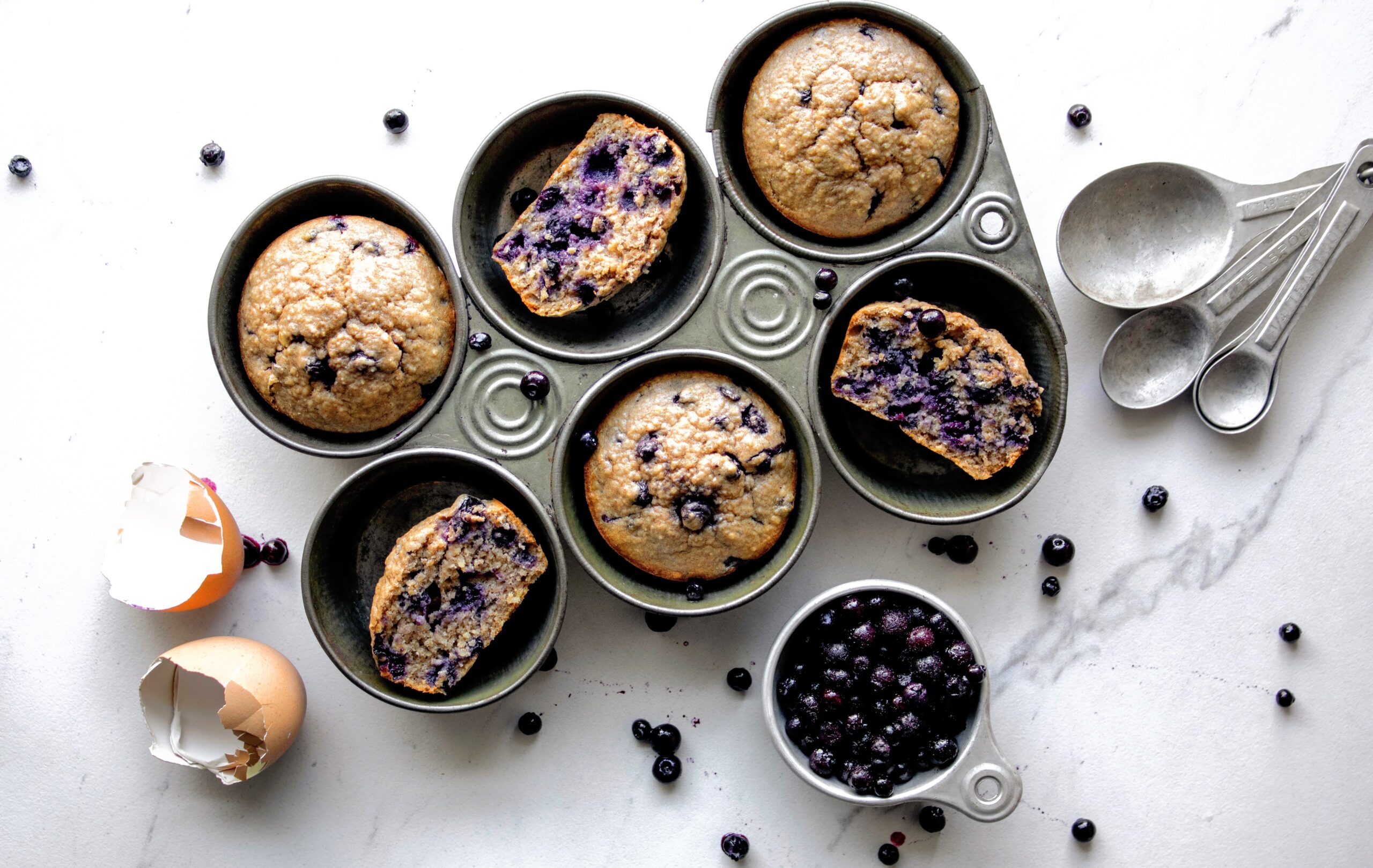 We have been loving these muffins lately! And pretty much keep them on hand at all times. They are filling, fluffy, not too sweet, and have enough whole-food ingredients to truly be considered a healthy dessert, breakfast, or snack. Plus, they're so easy to make, and I'm all about easy baking.
Pictured are blueberry muffins, but I've made these babies with raspberries and chocolate chips, so feel free to be creative with your mix-ins! Since the mix-ins can vary, let's talk about the main base ingredients: oats and bananas.
Oats
Whole grain oats are extremely nutrient dense (having a wide range of vitamins and minerals) and fantastic for gut health! Just 1/2 cup dry oats contains:
81% manganese
23% phosphorus
21% selenium
18% zinc
18% magnesium
17% copper
16% vitamin B1
9% iron & vitamin B5
5% potassium & vitamin B2
Oats also have a good dose of a carbohydrate called beta-glucans, which helps to feed the healthy bacteria in our digest systems, as well as increase fullness. Additionally, a serving of oats also contains 4 grams of fiber, which is 16% of the daily value for women.
Bananas
These guys are one of the best sources of potassium. It makes me wonder sometimes why doctor's prescribe potassium supplements, as each dose of medication can only contain up to 99 mg due to the supplemental form, potassium chloride, potentially causing small-bowel lesions. Most adults, however, need about 4700 mg. One banana contains 422 mg! So, my question is, why not just prescribe a banana? Or a potato, or some beet greens? I guess that's just the dietitian in me.
It's potassium content does make bananas great for the cardiovascular system, aiding in healthy blood pressure and heart function. Potassium is important for muscle function, which means bananas also aid in athletic performance by helping to reduce muscle cramps. The carbohydrate content also helps naturally fuel exercise.
Bananas can also help with regular digestion due to their fiber content, as well as potential resistant starch content. Green bananas are starchier than ripe bananas. As a banana ripens, it's starch begins to turn to sugar. Eating bananas on the green-side can also help feed the healthy bacteria in our gut!
Blender Banana Muffins
Ingredients
1/2

cup

milk

I used unsweetened vanilla almond milk

2

large eggs

2

ripe bananas

2

Tbsp

avocado, olive, or coconut oil

3-4

Tbsp

maple syrup

depending on sweetness preference

1

tsp

apple cider vinegar or lemon juice

1

tsp

baking powder

1

tsp

vanilla

optional

1

tsp

cinnamon

heaping tsp

1/4

tsp

salt

2

cups

instant oats

1

cup

mix-ins (chocolate chips, fruit, nuts, etc.)

I used 1 cup blueberries for the muffins pictured, but have made them many different ways!
Instructions
Add all ingredients to a blender in the order listed, EXCEPT for the mix-ins.

Blend until the mixture appears smooth and consistent.

Fold in the mix-ins with a spatula. I like fewer dishes so I do this right in the blender!

Spray or line 12 muffin tins, then add fill each tin about 3/4 full of the mixture.

The muffins are done when a toothpick comes out clean and/or the tops bounce back when gently pressed.

Store in the fridge in an airtight container for a longer shelf life.
I hope you enjoy this recipe as much as my family and I do!