What I'm Wearing At 4 Months Pregnant & An Epic Fourth of July Celebration
Well, it's official. At almost 17 weeks pregnant I no longer fit into my pants. Okay, I do fit into them, and they button, but they are wildly uncomfortable and far too constricting to want to wear them for more than 10 seconds. I've tried on several pairs of maternity pants now from work pants to jeans to shorts, and luckily I have one pair of pants and two pairs of overalls that fit. Two of these are from Motherhood Maternity – thank goodness for this company! I would be pantsless without them. And I'll tell you what, I love dresses, they are super easy yet still look nice, but 1) I get sick of wearing them every day and 2) it was cold and rainy this weekend! Pants were a must for me.
Today started out like most Sundays. We got up, had coffee, breakfast, and headed off to church. I typically try to avoid wearing jeans to church, unless they are a darker wash and can still sort of pass, but I have one pair of pants and it was cold, so here we are. Luckily, jeans can be dressed up or down and our church is definitely more on the casual side! I'm not entirely sure where my sweater is from since I found it in my sister's closet (thanks Char!), but I snagged these shoes from Old Navy, and the bag was a gift my husband bought for me from ROOLEE. (Okay, so I had picked it out and put it on my Christmas list.) My earrings are from EJ Clay Co (you can read more about them here) and really tied this outfit together to make it just dressy enough for the occasion.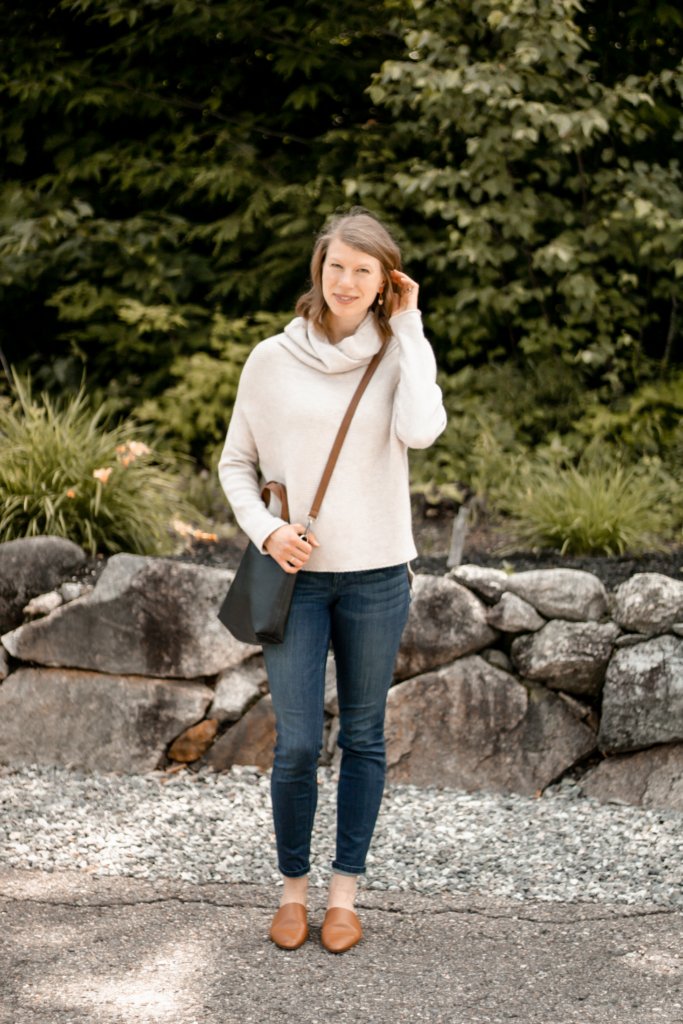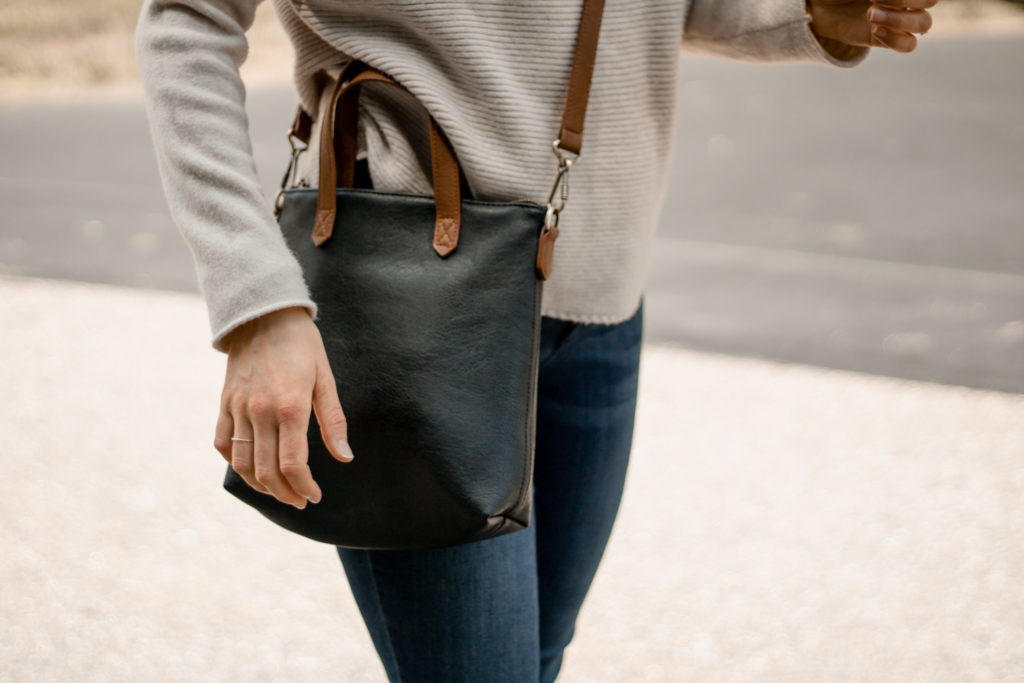 And that is when our typical Sunday routine ended and turned into one that has been unprecedented! My husband's extended family usually gets together for the Fourth of July, but last year we were not able to do that due to the COVID-19 Pandemic. Nor we were able to get together for New Year's Eve, Easter, Cinco De Mayo, Thanksgiving, Christmas, graduations or birthdays – half of which we don't usually celebrate with each other anyway, but oh well. My sister-in-law and Hayden's cousin came up with the brilliant idea of celebrating all the holidays we missed during 2020. In one day.
So, at noon we toasted the New Year with champagne (not me) and a confetti popper. We ate peanut butter balls for Christmas, smoked turkey and stuffing for Thanksgiving, ham for Easter, and hot dogs for Fourth of July. We had a pinata for to celebrate birthdays (and apparently Cinco De Mayo), which we competed to hit by having an egg fight, an Easter tradition. If you've never had an egg fight before, don't worry, it doesn't involve throwing eggs at people! I didn't know what an egg fight was until I met Hayden, but you start off by boiling and decorating eggs, like many do for Easter. But, then two people hold an egg horizontally and sort of tap them together. Whichever egg cracks first, loses. It's pretty fun, but I always somehow get eggs with a weak shell.
I'd say the majority of guests still dressed for the Fourth of July, including me and Hayden, who ended up twinning coincidentally (which happens quite often, actually). He wore a red and white striped long sleeve, and I wore a blue and white one – ha! It was a nice day to be outside besides the funky weather. One minute it's cold and cloudy, then warm and sunny, and then down pouring. I really wouldn't expect much else living in New England, though. It was a great day, albeit a tiring one. And although quite a lot of fun, I am excited to celebrate each holiday as it comes again.