The Best Maternity Jeans, Pants, Shorts, & More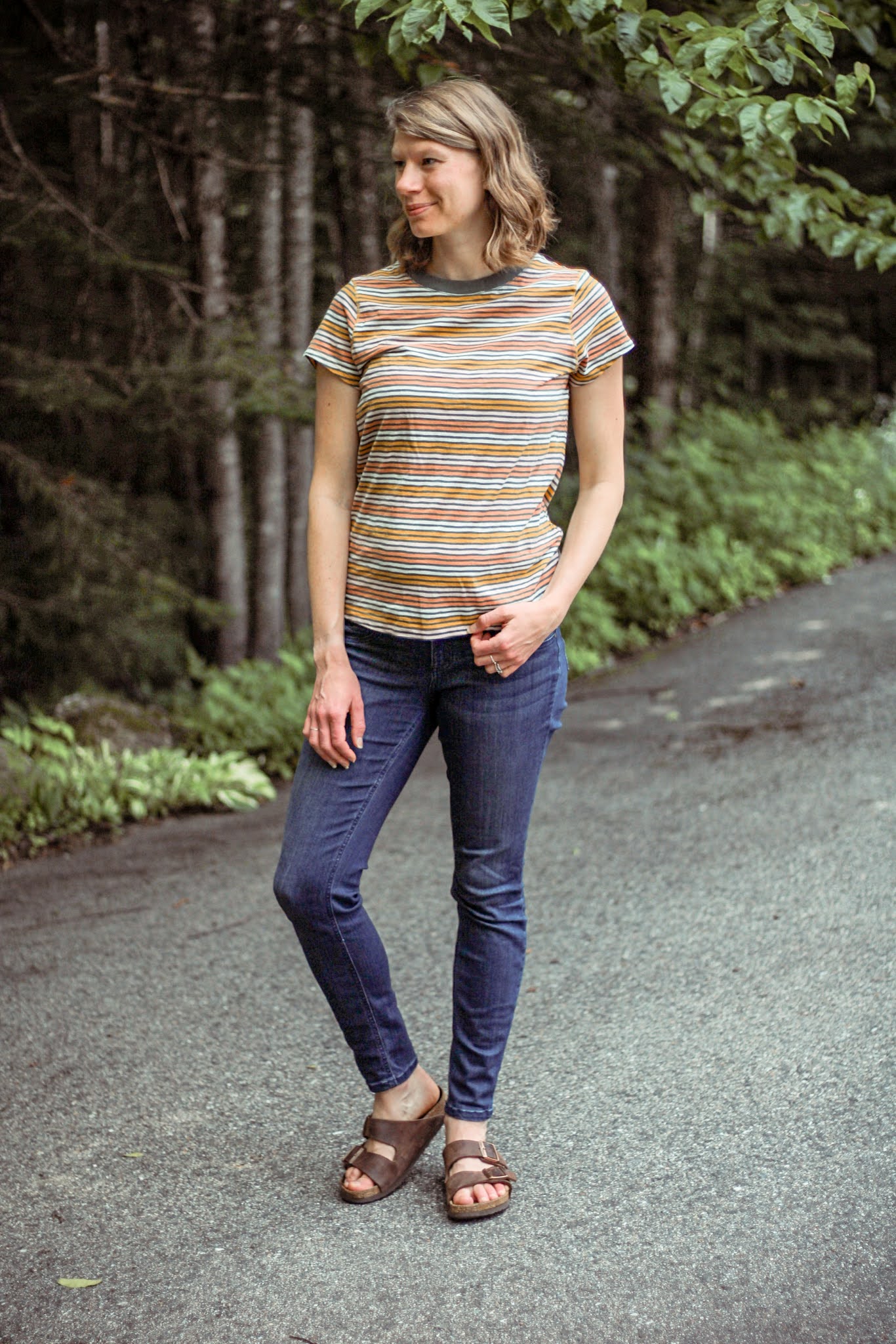 Disclaimer: This post contains some affiliate links. Any purchases made using these links will result in a small commission for me, but at no extra cost to you. All opinions are my own. You can read about my affiliate disclaimer here.
For the past few months I've felt like maternity clothes shopping was a second full-time job. My actual job is working as an outpatient and retail dietitian. Mornings, evenings, and lunch breaks, however, have been spent scouring the internet for clothes that both fit my style, are comfortable and affordable. And it's time consuming! I tried reading other posts similar to this one, but they often listed options that were far too expensive for my budget. Yeah, I'm not about to pay $100+ for a pair of jeans no matter how much someone tells me they're worth it. I assure you, you can still find good quality items without paying an arm-and-a-leg for clothes you'll wear for 6 months.
I don't want to waste my money on items that are "just ok" either. I read so many reviews, and many of them would say things like "they're not the best, but they'll do", and I did not want that! Pregnant or not, I want to feel confident and completely comfortable in what I'm wearing, and I'm sure you do too!
Despite reading reviews though, the only way to really tell if you feel good in something is to try it on, and unfortunately, not many stores near me have maternity clothes. And if they do, the sections are VERY tiny. Even companies like Old Navy and Gap that sell maternity clothes, don't have them in stores – at least not ones close to me. So, I'd end up ordering a bunch of clothes, only to return most of them. I got so many packages, my family was worried I had a shopping problem! No, my problem was not with shopping, but with a lack of suitable maternity clothes.
I'm hoping this post helps you save the time and hassle I went through trying to find some key maternity items! Happy shopping!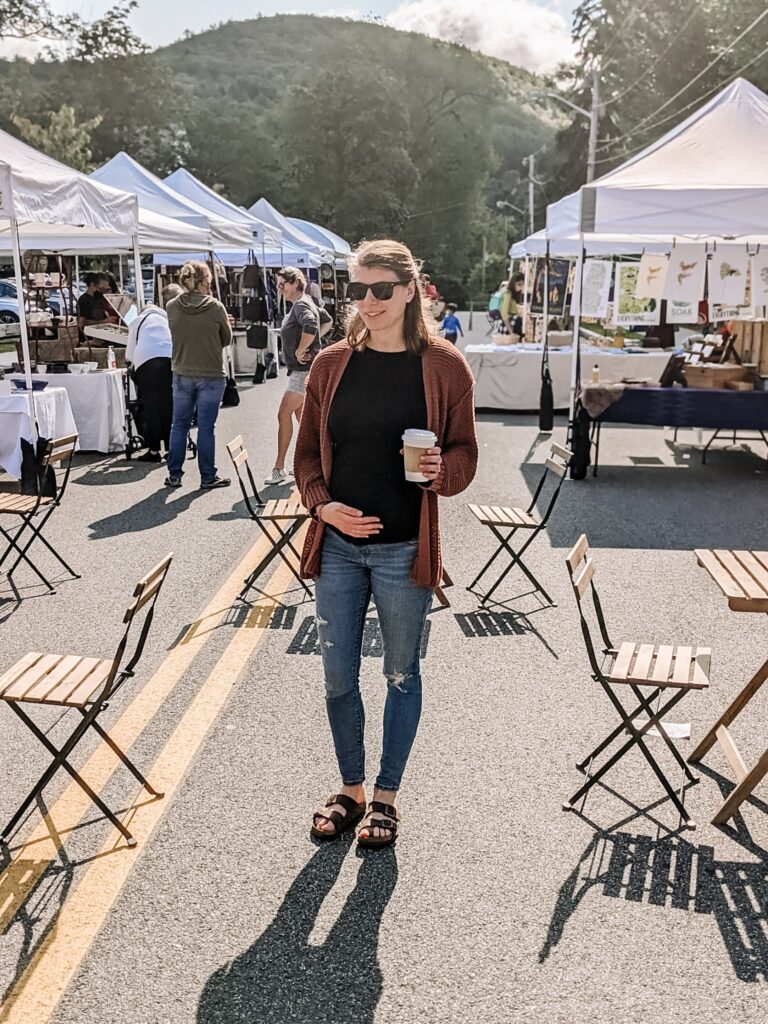 Work Pants
The first thing I had to buy was work pants. If it wasn't for my professional jobs, I would have happily been rocking sweatpants all day, everyday. Of course, that wasn't the case. I tried 3 or 4 pairs before FINALLY finding one that was perfect! That may not seem like much, but when you're ordering a pair online, waiting for it to ship, trying it on, returning it, researching for a different pair, and then doing it all over again, it actually took me at least a month or so to find a comfortable pair of pants to wear to work.
I was down to pretty much dresses and when I finally found a pair it was a Godsend because I was getting passed the point of the ol' elastic band trick. I have since worn these Maternity Full Panel Skinny Pants with Bi-Stretch pretty much everyday to work since I got them! (Yes, they do get washed!) I ordered my pre-pregnancy size and they fit perfectly! The very first time I put them on they were snug, but immediately loosened up and have fit great ever since.

Shorts
I spent most of my second trimester in the summer, when my belly was big enough that I no longer fit in any of my normal shorts, and I needed them all: jean shorts or shorts to wear out of the house, running shorts, and lounge shorts! Fortunately finding shorts was a little easier than work pants!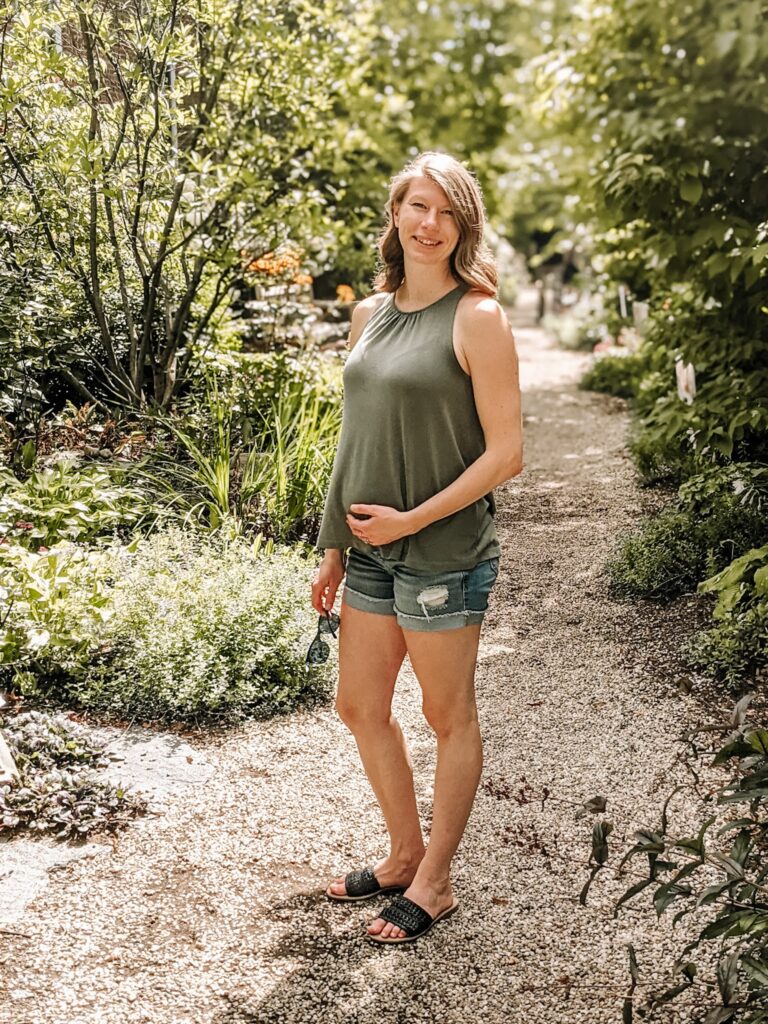 Jeans
I was really missing skinny jeans, and knew I would want some for cooler summer nights, and when the weather eventually got colder. This one was a real struggle as well. At one point I ordered four pairs from Old Navy, and didn't feel good in any of them! I tried some others as well, and they were all the same: too short, too stiff, and not true skinny jeans. Enter: the best maternity jeans ever! They are comfortable, fit well, and are actually longer and tighter around my ankles. I took a chance on these as I usually never buy ripped jeans, and at the time this style had no reviews, but when I put them on I immediately did a happy dance! I WISH Target had other colors in the same style, but I tried other, seemingly similar, jeans and they did not fit like these.
I was still on the hunt for a darker wash skinny jean without rips though, and finally found some! These jeggings from Motherhood Maternity are comfortable and are actually tight around the ankle. I have not worn them much yet since I only recently got them, but I'm excited to! I did use a discount code advertised on the company's site at the time and got these jeans around 50% off!
Another option are these jeans from Motherhood Maternity, which I talked about here. As my stomach has grown, I've found that over the belly bottoms are way more comfortable than side panel, but these were nice to have early on. Not true skinny jeans, but a looser jean that was comfortable when nothing else was!

Leggings

The first maternity leggings I tried were the Basic Secret Fit Maternity Leggings from Motherhood Maternity. I didn't love them because they were scratchy and loosened quickly, but I had gotten them heavily discounted, so kept them. I still wanted ones that were softer and more comfortable, though. I gave Motherhood Maternity leggings another go during a sale and tried the Essential Stretch Secret Fit Maternity Leggings, and I loved them immediately! They are super soft and comfortable, great for lounging, or wearing under a long sweater, shirt, or dress.

If you're looking more for performance leggings though, or ones that are good to work out in, I recommend the Louisa Maternity & Postpartum Support Leggings from Kindred Bravely. Okay, I know I said I wouldn't recommend expensive items, however, when it comes to leggings, I've learned the hard way that it's often worth the investment. I used to scoff at $100 Lululemon leggings thinking they were just overpriced and could not possibly be better quality than my $15-20 leggings from T.J. Maxx. Then, I was given Lululemon leggings as a gift, and I'm now a convert for life. I only ever get them as a Christmas gift from my sister, but still. They are the best, highest quality, and longest lasting leggings I have ever owned. My cheap T.J. Maxx leggings? They don't last. They stretch out, get holes easily, and the material isn't as comfortable. I probably went through 3-4 different pairs in the same time span as wearing one pair from Lululemon (and those are still going strong!), so they end up being the same amount of money anyway.
Why am I talking about Lululemon when I just recommended Kindred Bravely? Because the only reason I looked into these leggings was because of a review that compared them to Lululemon. Upon further research, they had hundreds of positive 5-star reviews. Additionally, one of my friends who's a new mom had recommended this company. So, I figured I'd try them! Plus, they have a free, 90-day return policy, so I didn't have anything to lose. I am definitely NOT returning them though. They are thicker than Lululemon, but that's not a bad thing. I do feel supported while wearing these leggings, especially while working out, which is key. They are snug, yet comfortable and not too tight. I haven't worn them for very long, so I cannot attest to how they last, but based on material and reviews, I think they are here to stay for a long time!

Overalls
This one wasn't a necessity, but I'd seen many pregnant women in overalls, and they just seemed like a really comfy option. Motherhood Maternity came through again with these overalls that are just that!

Jumpsuit
This one was unexpected. I was in Walmart one day, searching for maternity shorts, and happened to notice this jumpsuit. It was very soft and seemed comfortable, but not a typical style for me. I decided to try it just because, and oh my goodness it was so worthwhile! And a bonus that it's for both maternity and nursing! I also loved that it can be worn in warmer weather, or cooler weather by adding a sweater. I wasn't exactly a Walmart-clothing convert until that moment – ha!
Be on the look out for part 2 in which I'll go over tops and dresses!
Was this post helpful? Do you have some great maternity clothing finds? Let me know!