Homemade Chex Mix (Healthy, Dairy Free)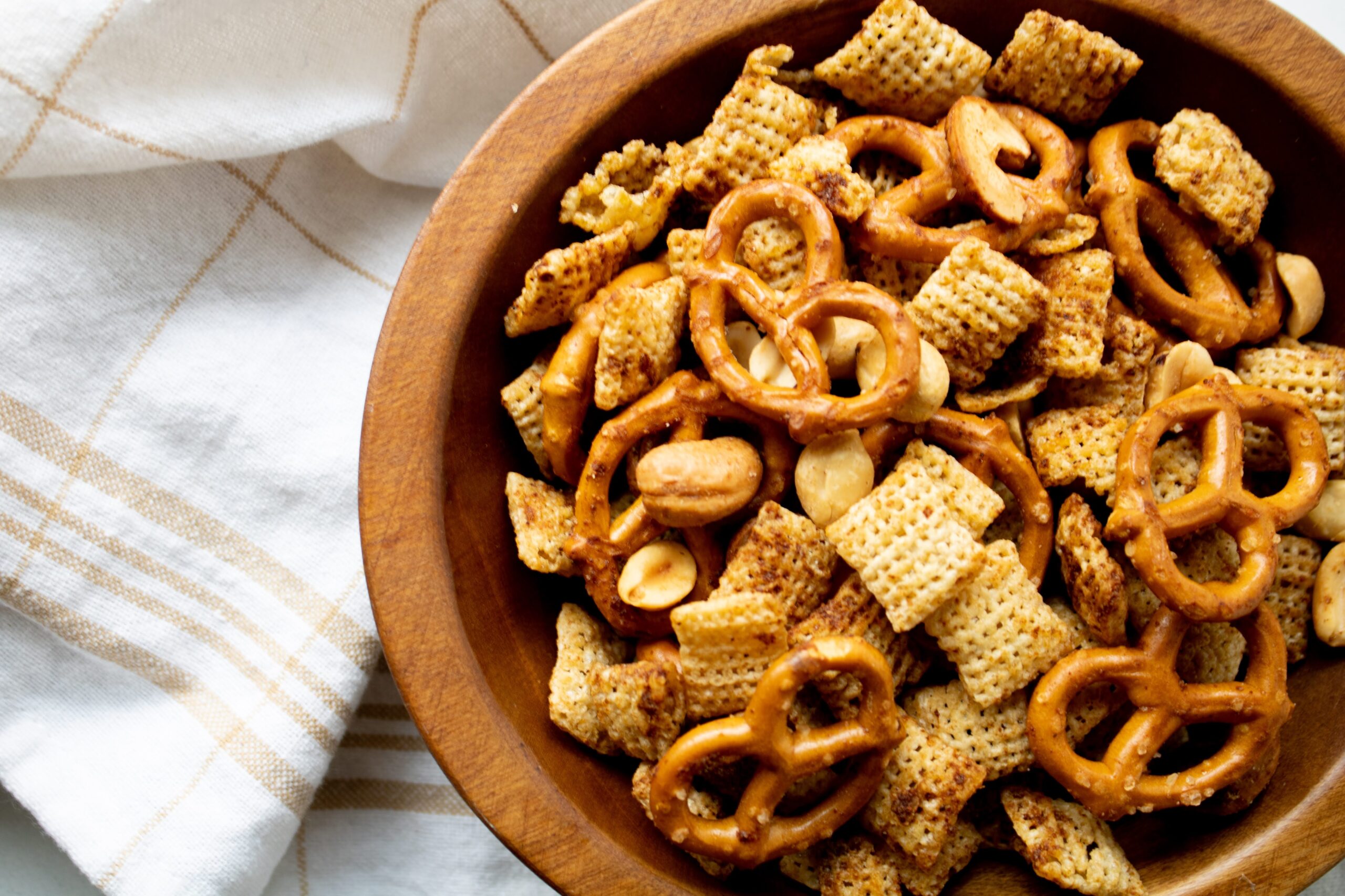 I started making this homemade chex mix because I was missing traditional chex mix, but I didn't want all the added ingredients like vegetable oils or hydrolyzed soy protein. Plus, I love making healthier football snacks! My husband loves football, I love the snacks. And that's when I created this recipe: last year during football season. It hadn't really occurred to me to make my own before, but I'm so glad I did!
Many of the homemade chex mix recipes out there, and even the one on the back of the box of rice chex cereal I bought, call for butter, which I didn't really want to use. I've been eating more dairy lately and feeling worse and worse. I figured I'd try a recipe out using avocado or olive oil and it totally worked!
I didn't realize how easy it was to make chex mix! It's just as delicious and probably more cost effective than buying it. This recipe was a big hit with my family, who all said it tasted like the real thing and now request it!
Better yet, it's healthier. It doesn't have as many additives and uses healthier fats than the traditional version.
Why use olive or avocado oil versus vegetable oils like soybean, corn, or canola?
1. Healthier Fats
Processed vegetable oils are higher in omega-6 polyunsaturated oils, which our bodies need, but not in excess. Our bodies are designed to function optimally with a ratio of around 4:1 omega-6 fats to omega-3 fats or less. But, most packaged snacks and fried foods are made with omega-6s-rich vegetable oils, which are cheap for companies to use and to purchase for home-use as well. This makes the average ratio of omega-6 fats to omega-3 fats closer to 10:1 to 20:1 in American, which is way too many! Too much of a good thing is usually not a good thing…and this is true for omega-6 fats. We need some, but too many cause inflammation. And as we know, inflammation is a component of many ailments and modern diseases including obesity, diabetes, heart disease, skin issues, autoimmune diseases, etc.
Monounsaturated fats, on the other hand, have been shown over and over again to promote heart health, and certain oils, like extra virgin olive oil, can help reduce inflammation because of it's ant-oxidant content. Theses types of fats increase HDL ("healthy" cholesterol), and decrease LDL ("lousy" cholesterol) and total cholesterol.
2. Less processing
Vegetable oils should really be called seed oils because that's what they come from. Canola oil, for example, comes from rapeseed, not a vegetable. It also undergoes significant processing in order to get from seed to shelf, making it less stable and, therefore, more susceptible to oxidization (rancidity). If an oil is rancid, it can contribute to free radical production in our bodies (a.k.a. inflammation). This is the opposite of what we want. To get canola oil, the seeds have to be pressed and squeezed, the oil that is released then gets filtered, heated, and bleached to lighten the color. Oil still remaining in the seeds goes through a chemical extraction using a solvent. After it's bleached, the oil is steamed to remove the odor. Afterwards, it's fully refined and ready to bottle.
Watch the process here. The video says "canola is one of the healthiest oils", but even without knowing the additional science of why it's not, just watching the video is enough to see how manufactured it is. While not everything I personally consume can be found in nature (I mean, chocolate is one of my favorite foods), I still try to get as close as possible as often as possible…and this is just far from it.
Something like extra-virgin olive oil on the other hand, is typically just pressed olives. It retains it's healthy antioxidant content, and because it doesn't get heated, also has less risk of rancidity.
Okay, enough science-y stuff and onto the snacking!
Homemade Chex Mix (Healthy, Dairy Free)
A salty, crunchy, satisfying snack made with healthier ingredients. It's became a family favorite!
Ingredients
4

Cups

Chex cereal

(Rice, corn, and/or wheat) I used all rice chex in this recipe because I wanted to keep it GF and also only buy one box of cereal!

2

Cups

Mini Pretzels

(GF if preferred)

1/2

Cup

Cashews

1/2

Cup

Peanuts

4

Tbsp

Olive oil

1.5

Tbsp

Worcestershire sauce

The KEY ingredient

1/2

tsp

Salt

1/2

tsp

Garlic powder

1/2

tsp

Onion powder

1/4

tsp

Smoked paprika

1

Dash

Cayenne pepper
Instructions
Add chex cereal, pretzels, cashews and peanuts to a large mixing bowl.

Add remaining ingredients to a small bowl and stir to combine.

Pour the remaining ingredients over the cereal, pretzels, and nuts. Mix until everything is well-coated.

Spray a baking sheet with olive oil spray.

Pour mixture onto the baking sheet and distribute evenly in one layer.

Turn chex mix after 20 minutes, then return to the oven to bake for another 15 minutes.

Let cool completely if you can wait long enough, then share and enjoy!
I hope you like this recipe as much as my family and I do! Comment below to let me know what you think!