The BEST Sunscreen: Beautycounter Sunscreen Review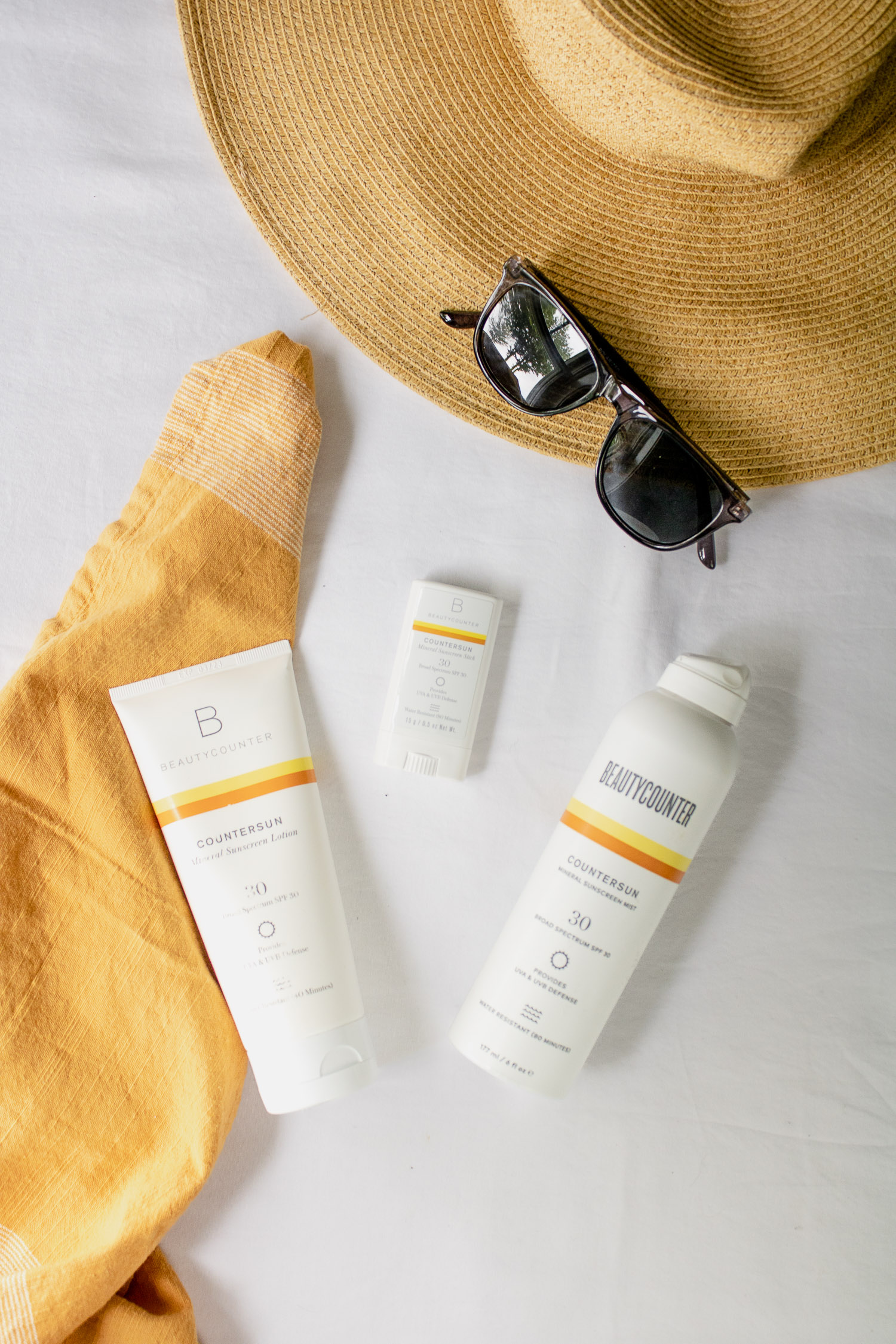 Disclaimer: This post contains affiliate links. Any purchases made using these links will result in a small commission for me, but at no extra cost to you. All opinions are my own. You can read about my affiliate disclaimer here.
My parents always used to harp on me and my sister about putting on sunscreen. But, of course, all we cared about was trying to tan, which was such a ridiculous endeavor not only because it was terrible for our skin, but I just don't have the kind of skin that tans well anyway. We'd ultimately end up burnt…and in trouble for getting burnt.
This was, as I came to realize, for good reason. Both of my parents have had skin cancer removed (I have their permission to share this), so all they cared about was protecting us from the same.
As a teenager, I thought ahead about my future health in terms of heart disease, diabetes, etc., but never about my skin (it'll look young and wrinkle-free forever, right?!). I now understand the risk factors of skin cancer as well as the aging affects sun has on the skin.
I've also realized I have since become my parents.
I am now the one applying sunscreen either before I go outside, or no more than 20 minutes after being outdoors, making sure my son is protected from the sun, and reminding my husband to put on sunscreen as well.

On a recent weekend away with friends, I happily offered (read: highly encouraged) sunscreen to anyone who needed it.
Part of this mindset change is a concern around skin cancer prevention and reduced aging, but I think another factor is that I actually like the sunscreen I'm using. It feels (and smells) more like I'm applying a creamy lotion rather than a thin, chemically-scented liquid that I can't wait to shower off at the end of the day.
Beautycounter Sunscreen Review
I have been a long-time user of Beautycounter, and love the brand so much I became a consultant simply because I kept telling others about the great products I was using!
But, the products are on the pricier side, at least compared to drugstore/pharmacy brands.
Spending more on a skincare regimen that lasts me 6 months, and makeup that lasts much longer, I knew the price for quality, safety, and length of use was completely worth while. Still, I was skeptical about spending so much on sunscreen.
I wanted a safer, zinc oxide-based sunscreen though, so I tried other, less expensive brands. They worked as far as preventing sunburn, but were SO hard to rub in and left a thick, white residue. And they still had that familiar sunscreen smell.
After getting Beautycounter's sunscreen for 50% off (email me to learn how), I tried it once and have never looked back. It is the BEST sunscreen I have ever used. Not only is it safer for humans and coral reefs, it works as a sunscreen should by protecting skin and preventing burns, doesn't smell, and is easy to lather on. It's more like applying a creamy lotion that is ultra hydrating and nourishing for my skin, rather than reluctantly slapping on some runny, stinky liquid.
The details:
30 SPF
Reef-friendly
Water-resistant up to 40 minutes
Mineral-based
Made with non nano zinc oxide
Types:
How to use:
Apply liberally 15 minutes before sun exposure. Reapply after 40 minutes of swimming or sweating; immediately after towel drying; at least every 2 hours.
The only con is that it is a little bit hard to wash off my hands, which is likely due to the fact it's a mineral-based (or physical) sunscreen – wait what's that?
The difference between mineral and chemical sunscreens
Mineral-based sunscreens use zinc oxide and titanium oxide (ingredients that are generally recognized as safe, and less likley to cause skin irritation), which sit on the skin and create a phsyical barrier to the UVA and UVB rays. Chemical-based sunscreens actually allow UV light into the skin, and once absorbed, the chemicals used to formulate these sunscreens (oxybenzone, avobenzone, octisalate, octocrylene, homosalate, and octinoxate) cause a chemical reaction that turns the UV light into heat, which then evaporates from the skin. (Source) So, mineral-based sunscreens sit on the skin, while chemical-based get absorbed into the skin.
Also, what's UVA and UVB anyway?
UVB rays are those that cause sunburn, and UVA are those that cause tanning and premature ageing (wrinkles, sagging, and sun spots). (Source)
Since chemical-based sunscreen are absorbed into the skin, are they harmful?
Oxybenzone (also known as BP-3) and octinoxate are known endocrine disruptors (meaning, they can affect our hormones), and were recently banned in Hawaii and Key West, FL due to the threat they pose on marine ecosystems. These chemicals have been detected in urine, blood, semen, and even amniotic fluid and breast milk. The effects they have on human health, however, remain inconclusive and more research is needed.
A 2020 systematic review of 29 studies addressed the health affects of oxybenzone or octinoxate, and these are some of their results:
Currently, two studies have shown an association between higher urinary oxybenzone concentration and a decrease in thyroid hormones, while other studies showed no statistically significant association. Only one of the 5 studies done, however, actually looked at thyroid hormone levels after sunscreen application.
One study showed a significantly positive association between urinary levels of oxybenzone and the onset of puberty, while another showed a negative association.
Oxybenzone is a potential contributing factor to kidney injury.
Studies found no statistically significant association between prenatal BP-3 exposure and the offspring's sex ratio, birth weight, pubertal development, body fat mass, intelligence quotient and behaviour 35–44. However, a few studies reported the potential risk of prenatal BP-3 exposure on offspring development 45–47.

Suh S, Pham C, Smith J, Mesinkovska NA. The banned sunscreen ingredients and their impact on human health: a systematic review. Int J Dermatol. 2020;59(9):1033-1042. doi:10.1111/ijd.14824
These two chemicals are not only used in sunscreen, but they are also found in drinking water, air, fragrances, plastic packaging, and cosmetics.
The major limitation of our study, however, is that we could not determine the actual contribution of sunscreen on the systemic levels of BP-3 and OMC, and therefore cannot verify the long-term risk of using sunscreen containing BP-3 or OMC. Most studies included an analysis of urinary concentration as an exposure biomarker, which may result from exposure to environmental means other than sunscreen absorption.

Suh S, Pham C, Smith J, Mesinkovska NA. The banned sunscreen ingredients and their impact on human health: a systematic review. Int J Dermatol. 2020;59(9):1033-1042. doi:10.1111/ijd.14824
The study ultimately concluded that better, long-term studies are needed to assess risk of exposure over time.
To evaluate the long-term risk of exposure to BP-3 or OMC from sunscreens, a well-designed longitudinal randomized controlled trial is of high priority.

Suh S, Pham C, Smith J, Mesinkovska NA. The banned sunscreen ingredients and their impact on human health: a systematic review. Int J Dermatol. 2020;59(9):1033-1042. doi:10.1111/ijd.14824
I'd personally rather air on the side of caution instead of learn years from now that these chemicals have indeed been negatively affecting my health. Remember when there wasn't yet significant evidence that smoking was bad for us? I don't want that to be the case for chemical-based sunscreens.
Recently, some sunscreens were also found to be contaminated with benzene (a carcinogen)
Benzene is a cancer-causing chemical found naturally in volcanoes, forest fires, crude oil, gasoline, and cigarette smoke. Benzene can also be used to make other chemicals that are used to produce things like lubricants, rubbers, dyes, detergents, and pesticides.
Exposure to benzene can cause cells to work incorrectly:
Benzene works by causing cells not to work correctly. For example, it can cause bone marrow not to produce enough red blood cells, which can lead to anemia. Also, it can damage the immune system by changing blood levels of antibodies and causing the loss of white blood cells.

Source
What does this have to do with sunscreen?
Well, in the spring of 2021, a lab in connecticut called Valisure found benzene in Neutrogena spray sunscreens and Johnson & Johnson, the company that produces this brand, recalled the contaminated products. The FDA then instructed manufacturers of other aerosol sprays to test for benzene as well.
Many found it. To date, at least 15 brands have been affected, with more than 25 million products recalled because of contamination with the chemical. That includes other aerosol sunscreens, such as products from Aveeno and Coppertone, deodorants from Old Spice and Secret, and conditioners and shampoos from Aussie and Pantene.

Source
The FDA says benzene levels in consumer products should be less than 2 parts per million (ppm). Frequent exposure to amounts above that could increase the risk of leukemia.

Some of the recalled products had benzene levels well above that amount. For example, the Aveeno and Neutrogena sunscreens had benzene levels ranging from 11.2 to 23.6 ppm, five to 12 times the level advised by the FDA.

Source
According to Consumer Reports, even this level of benzene may not pose immediate harm to our health, but toxicologists worry about long-term repeated exposure.
Consumer Reports provides a list of safer sunscreens that received higher scores from their testing.
Testing for trace contaminants and heavy metals is another reason I continue to trust Beautycounter's brand as well. While some companies will test a material source once and then continue to use it without routine testing, Beautycounter continues to test materials and tests each product multiple times. Read more about Beautycounter's testing and other safety standards here.
How effective is sunscreen at protecting our skin?
Okay, so using a mineral-based sunscreen is safe, and potentially safer than chemical-based sunscreens given current evidence, but, how effective is sunscreen at protecting our skin?
According to the Skin Cancer Foundation:
When used as directed, sunscreen is proven to:

Decrease your risk of skin cancers and skin precancers. Regular daily use of SPF 15 sunscreen can reduce your risk of developing squamous cell carcinoma (SCC) by about 40 percent, and lower your melanoma risk by 50 percent.

Help prevent premature skin aging caused by the sun, including wrinkles, sagging and age spots.
If we're investing in other skin-saving products (moisturizers, serums, etc.) and eating well to keep our skin healthy and slow aging, we definitely want to be wearing sunscreen.
Safer Sunscreen Options
Beautycounter's sunscreen is the best I've personally tried, but here are some other options as well. I cannot speak to quality or effectiveness of these sunscreens as I have not tried them, but they do have good safety ratings from EWG:
Conclusion
Using sunscreen, no matter the type, is important to protect skin from aging and reduce risk of skin cancer
Mineral-based sunscreens are safe & effective, chemical-based sunscreens are effective, but do contain endocrine disrupting chemicals oxybenzone and octinoxate. Whether or not these chemicals impact our hormone systems needs further research, but they do potentially contribute to kidney injury.
Beautycounter's sunscreen is safe, effective, does not smell (which is a good thing for sunscreen), and feels like a creamy lotion when applying. As a Beautycounter product it undergoes thorough testing for heavy metals and other trace contaminants before being sold to consumers. It is the best sunscreen I have tried thus far.
Is there a safer sunscreen brand that you've tried and loved?? Let me know below!
Sources
All About Sunscreen. Skin Cancer Foundation. Accessed June 11, 2022. https://www.skincancer.org/skin-cancer-prevention/sun-protection/sunscreen/.
Bedosky, Lauren. The Difference Between Chemical and Mineral Sunscreen. Everyday Health. July 21, 2021. Accessed June 11, 2022. https://www.everydayhealth.com/skin-beauty/chemical-vs-mineral-sunscreen-whats-difference/.
Suh S, Pham C, Smith J, Mesinkovska NA. The banned sunscreen ingredients and their impact on human health: a systematic review. Int J Dermatol. 2020;59(9):1033-1042. doi:10.1111/ijd.14824. Accessed June 11, 2022.
Felton, Ryan. Benzene, a Known Carcinogen, Has Been Found in Some Spray Sunscreens, Deodorants, and Other Products. Consumer Reports. May 12 2022. https://www.consumerreports.org/toxic-chemicals-substances/benzene-known-carcinogen-in-spray-sunscreens-deodorants-a1136768493/. Accessed June 16, 2022.
Facts about Benzene. Centers for Disease Control. https://emergency.cdc.gov/agent/benzene/basics/facts.asp. Accessed June 16, 2022.