How to Switch to Safer Skincare (Without Feeling Overwhelmed)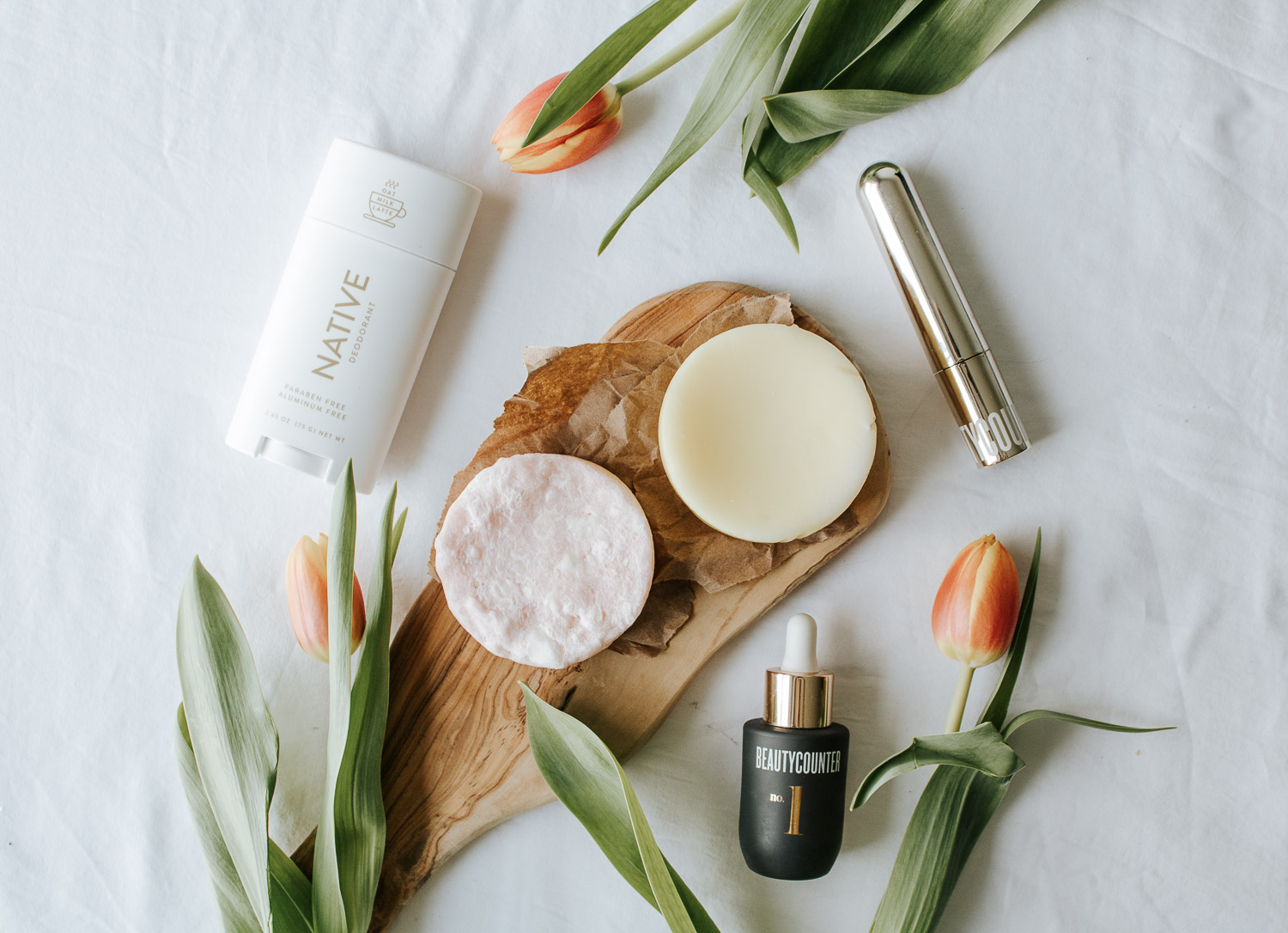 Disclaimer: This post contains affiliate links. Any purchases made using these links will result in a small commission for me, but at no extra cost to you. All opinions are my own. You can read about my affiliate disclaimer here.
I received this question a while ago, and the answer definitely deserves it's own post. If you've just started learning about better, safer skincare options, it can feel really overwhelming to do an overhaul of all your products all at once. But, it definitely doesn't have to be that way! This is a process that can absolutely be done one step at time.
Swapping my conventional products for safer alternatives is something that I've done naturally over the years as I learned more about safer skincare, or reacted to certain products. For example, when I first started wearing makeup, the blush I was using caused my cheeks to breakout, so I found a better blush. Common cleansers, toners, and moisturizers (oh the days of Proactive) only left my face red and irritated, and none actually helped my skin, so I sought out alternatives. When I learned about the effects of parabens and found that I was sensitive to fragrances, I began trying different hair care products (and even tried making my own, read below). I started making my own liquid hand soap and body wash using castille soap and essential oils, avoiding antibacterial (often contains triclosan or triclocarbon) and/or heavily scented soaps like those from Bath & Body Works. The list goes on, but the point is, I generally took things one step, one type of product at a time.
I began making swaps in 2012, but it wasn't until 2018 that I learned about Beautycounter. Beautycounter is not the only safer skincare and makeup company out there, but it is the one that FINALLY worked for me and my skin. Their products feel the best and are the highest quality of all the numerous products I've tried in the past. By figuring out the best regimen for my skin, and dialing in nutrition, I am acne-free for the first time in my life!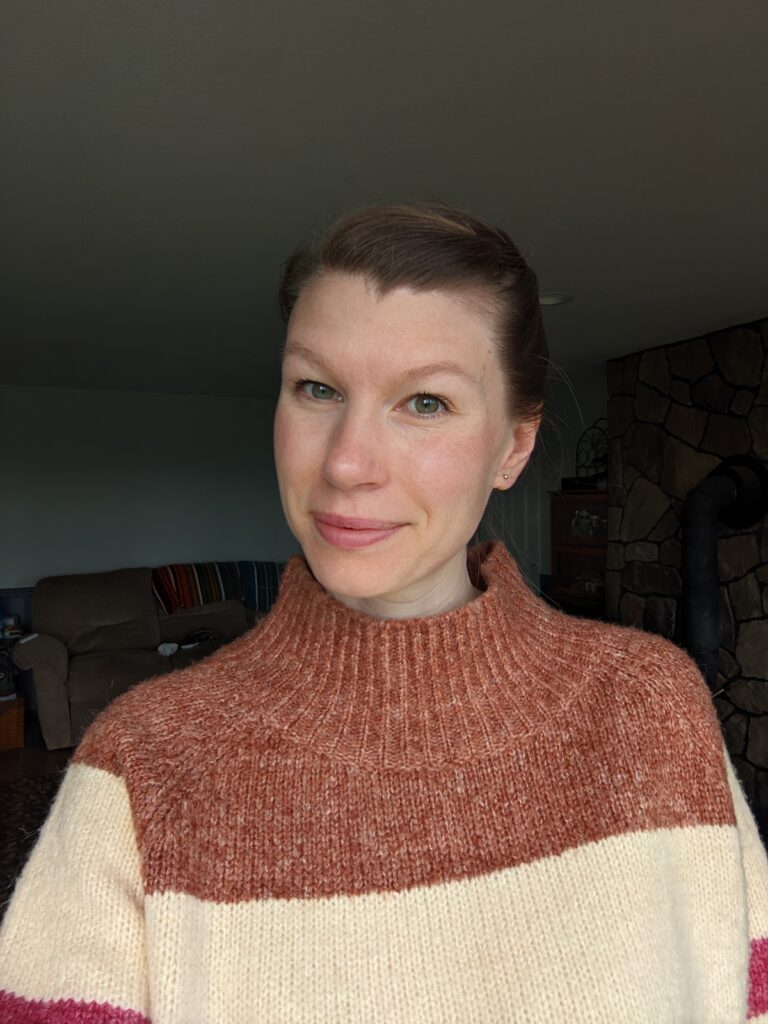 Okay, enough about that. I just get excited because I truly love Beautycounter. But, this article is not brand-specific, rather just steps as to how to actually make safer swaps, which can be done with any safer skincare products that work for you.
Before we get into the how, though, let's first review the why.
WHY safer skincare? What does that even mean?
Natural vs. Safe
Because let me tell you, it does NOT mean green-washing, which is when a company uses terms like "natural" and "eco-friendly" simply to sway consumers to buy their products.
When I say safer, I mean products that have a low or no risk of harming the body. This means the product contains low or no allergens, irritants, carcinogens, endocrine disruptors, contaminants, etc. I say "safer" as opposed to "natural" because natural does not always mean safe for the body, nor does it mean that it is going to be the highest quality. Arsenic is natural, but that doesn't mean I want it contaminating my cosmetics. Apple cider vinegar is natural, but I'll save it for my salads – not my skin.
I used to think natural was best and I tried everything that was considered such: apple cider vinegar toner and "shampoo", coconut oil on my face, home-rendered lard on my face, mud "shampoo", baking soda paste "deodorant"…you get the idea. Or, I used products that were advertised as "natural," falling victim to the false green-washing claims. The only thing these natural methods ever did was leave me feeling more greasy, stinky, and broken out than ever before.
But, these methods gain popularity for a reason – they work for some people! And that's great. I loved the idea of paying pennies to make my own products, but they didn't love me back.
Product Safety & Testing
Another reason for finding safer products is that limited regulation exists for safety standards in skincare.
From the FDA:
Under the law, cosmetic products and ingredients do not need FDA premarket approval, with the exception of color additives.

Source
Companies and individuals who manufacture or market cosmetics have a legal responsibility to ensure the safety of their products. Neither the law nor FDA regulations require specific tests to demonstrate the safety of individual products or ingredients. The law also does not require cosmetic companies to share their safety information with FDA.

Source
I try to look for companies who are transparent about their ingredients and safety testing. This is yet another reason why I love Beautycounter. Anyone can easily find the ingredients for each product. In fact, it's a selling point since the company is proud of the ingredients they source and use. They also provide samples of their average safety test scores for heavy metals. There are certain harmful ingredients that are never used to make their products either, which Beautycounter refers to as The Never List.
When I find a product/brand and want to quickly learn more about its safety, I simply search it on the Environmental Working Group's Skin Deep database. If the product is considered safer, I'll then do more research on the product's brand, their mission, and testing practices. If not on the Skin Deep database, like these shampoo and conditioner bars, I'll go directly to the company's website to learn more about the products, how they're made, and what ingredients are used. Either way, the most important thing is to be informed about what we're using.
Absorption & Ingredients
The problem with skincare products is not only that they can contain harmful ingredients, but these harmful ingredients are absorbed into the body via our skin, airways, or in the case of lip products, ingestion. Not only are these ingredients absorbed, but they can also be passed on. Just recently, a study from the journal of Science of the Total Environment published in March of this year detected BPA, parabens, and benzophenone-3 (also called oxybenzone, an ingredient commonly used in sunscreen and moisturizers that is linked with irritation, allergies, and potentially hormone changes) in breast milk. These concentrations were associated with the use of deodorants, mouthwash, skin care products, cosmetics, and nutritional supplements.
Okay, so these ingredients can be absorbed into our bodies, so what? Well, they can affect our overall health and the environment. Parabens, for example, are an endocrine-disruptor (chemical that changes hormones) that can cause changes to brain function, cholesterol, blood sugar, obesity, fertility, immune function, allergies, and impact cancer risk. They also enter the water supply, largely through products used in the shower, like shampoo and body wash, and affect wildlife.
And those are only examples of parabens and benzophenones. Other harmful ingredients include phthalates, PEG compounds, sulfates, formeldahyde, triclosan, and more. It makes sense why making the switch to safer products seems really overwhelming!
So, where do we start with swaps?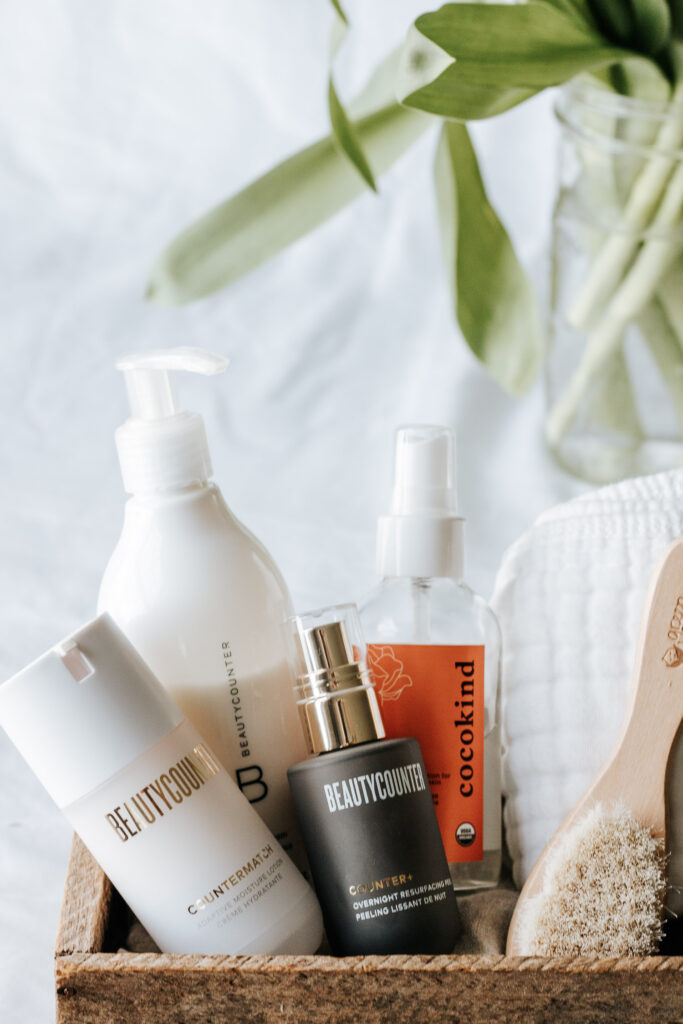 Okay, now let's get into the HOW
It can feel confusing and costly to think about changing ALL your skincare products all at once, and you may wonder where to even begin! I want to go over some steps on how to prioritize these swaps because it definitely does not have to be done all at the same time. Some is absolutely better than none.
Step 1: Swap most used products
If you use a cleanser to wash your face daily, but use lip gloss only twice a year, definitely swap the cleanser first. Then, move on to the next most used products.
Step 2: Swap most highly absorbed
Products that are inhaled and have heavy fragrances like perfumes, hairsprays, hair products, etc.
Products easily ingested like lipstick, lip gloss, and chap stick
Products used on the skin and stay on the longest like deodorants, lotions, moisturizers, serums, foundation, sunscreen, mascara, eyeliner, etc.
Products used on the skin and that wash over the body like hair products & body wash
Other products used daily on the skin like face wash, makeup, hand soap, etc.
Step 3: Identify your biggest concern(s)
Do you have a skin condition that requires gentle, non-irritating ingredients?
Do you have a lot of allergies?
Are you of reproductive age and looking to maximize fertility?
Are you super sensitive to artificial fragrances?
Are you most concerned about cancer prevention?
Do you have other concerns?
Step 4: Find & Swap products with the worst offenders within these categories
The following are the main categories from EWG to help determine product safety. Each ingredient falls into one of these categories and is labeled low, moderate, or high risk. So, for example, if you're main concern is reproductive health, you may pay the most attention to swapping products with ingredients that have a high risk for developmental/reproductive toxicity.
Allergens & immunotoxicity
Developmental/reproductive toxicity
Irritants
Persistence & bio-accumulation
Cancer
Non-reproductive organ system toxicity
Eco-toxicology (impact on environmental health)
For guidance on how to find these ingredients and their risk level, the Skin Deep database from the Environmental Working Group is an incredibly helpful tool. Beautycounter's Never List also gives a quick rundown of ingredients, why they are harmful, and which types of products commonly contain them.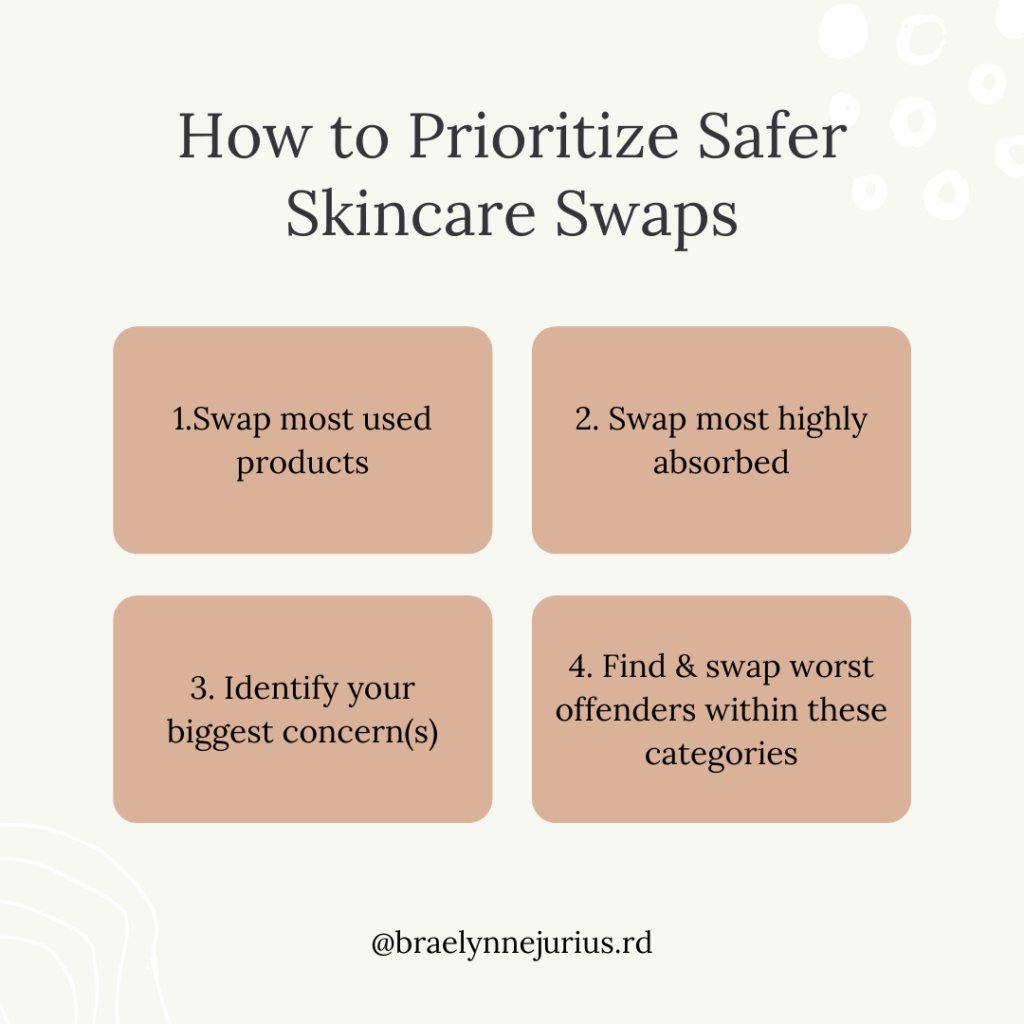 But really, start with whatever is easiest for YOU. If swapping your hand soap seems doable, but you can't fathom swapping your favorite lotion, start with the soap and go from there!
The process doesn't have to be perfect either. It's just about making decisions that are right for you. Often that means taking into consideration not only what products work best for you personally, but which are most affordable and accessible, and what is and isn't a priority. I know some of the products I use are not the absolute safest, while others are, and I'm okay with that because it's what works best for me at this time, but I'm always looking to improve.
If you need ideas of where to start, here are products I use or have used in the past (and like – there are many products I've used that are safe, but did not like), or have heard of others liking:
Cleanser: Beautycounter
Toner: Beautycounter, Cocokind
Moisturizer: Beautycounter
Serums: Beautycounter
Shampoo & conditioner: Beautycounter (works great for some, but not me), Plymouth Soapworks, Acure
Body wash: water + castille soap + essential oils in a foam dispenser, locally made bar soap, The Honest Company (also use this for baby)
Deodorant: Beautycounter (works great for many, but not me), Native, Plantish (have not yet tried, but planning to), Primally Pure (have not tried, but have heard others liking)
Hand soap: water + castille soap + essential oils in a foam dispenser, locally made bar soap
Scents: Henry rose
Makeup: Beautycounter, Ilia (have not used it, but others like it)
Chapstick: Burts Bee's
Toothpaste: Tom's (does contain SLS), Arm & Hammer (does contain SLS), hello (usually best to use one WITH fluoride), toothpaste tablets (have not tried, but often a safer and sustainable option)
Sunscreen: Beautycounter (hands down, best sunscreen)
Lotion: Beautycounter, Everyone
Sources
FDA's Testing of Cosmetics for Arsenic, Cadmium, Chromium, Cobalt, Lead, Mercury, and Nickel Content. U.S. Food and Drug Administration. March 3, 2022. https://www.fda.gov/cosmetics/potential-contaminants-cosmetics/fdas-testing-cosmetics-arsenic-cadmium-chromium-cobalt-lead-mercury-and-nickel-content#learned
FDA Authority Over Cosmetics: How Cosmetics Are Not FDA-Approved, but Are FDA-Regulated. U.S. Food and Drug Administration. March 2, 2022.
Iribarne-Durán, L., Serrano, L., Peinado, F., Peña-Caballero, M., Hurtado, J., Vela-Soria, F., Fernández, M., Freire, C., Artacho-Cordón, F. and Olea, N., 2022. Biomonitoring bisphenols, parabens, and benzophenones in breast milk from a human milk bank in Southern Spain. Science of The Total Environment, 830, p.154737.
Kimszal, Jeannette. What's the Deal with Parabens? VeryWell Health. October 11, 2021. https://www.verywellhealth.com/are-parabens-bad-for-you-5204132#citation-7.