Beyond The Fourth Trimester & The Best Pumping Bras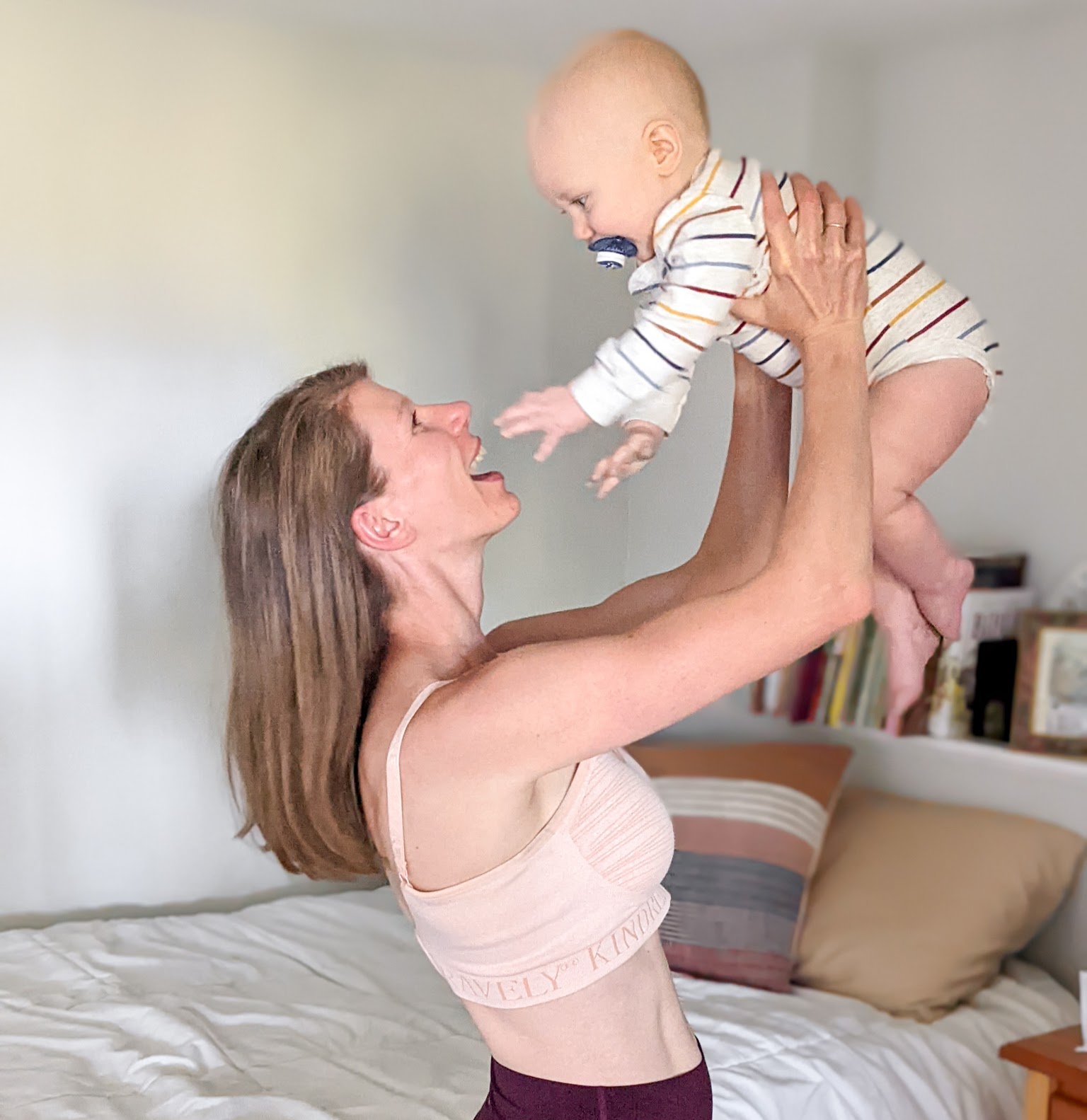 Disclaimer: This post contains affiliate links. Any purchases made using these links will result in a small commission for me, but at no extra cost to you. All opinions are my own. You can read about my affiliate disclaimer here.
In this post I talk about the emotions behind going back to work postpartum, the best pumping bras and why they are necessary, and milestones beyond the fourth trimester (plus some key items that make each stage of development much easier).
Returning to work
To be perfectly honest, I did not want to go back to work after having my baby. Well, I wanted to work, I just also wanted to stay home with my son. Don't get me wrong, I love my job as blogger, dietitian, and beautycounter consultant. Talking about food, life, safer skincare, and overall health all day is my jam and always has been. It is so rewarding to help people feel their absolute best!
BUT, it was still hard to return to the office after three months home with my baby boy. Even though I sorely missed all my coworkers as well.
Childcare
I've always felt that if I had kids, I wanted to be the primary person to raise them and watch them grow up. Otherwise, what's the point? Have kids just so other people can watch them most of the time? That's just not for me.
Anyway, I wasn't ready to go back to work yet, but I did feel better knowing our baby was in good hands. My parents and in-laws would be watching him on the three days I was in the office.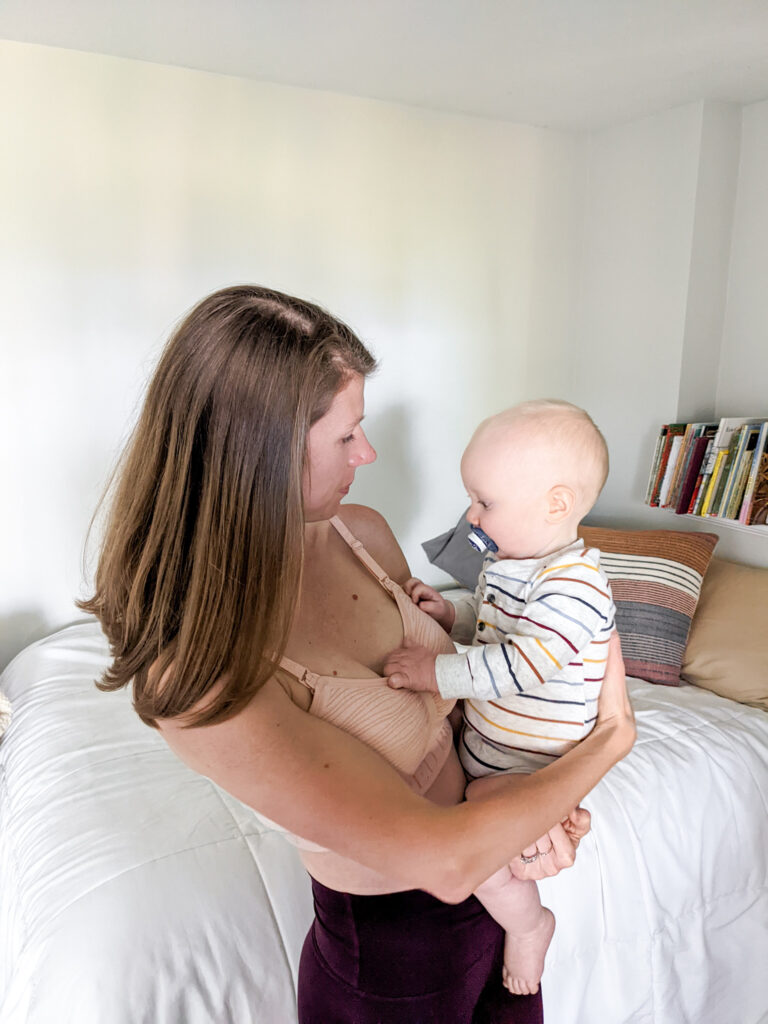 Nursing beyond the fourth trimester
Plus, I really didn't want to deal with all the pumping and milk storage. I just wanted to feed my baby myself. If you read my fourth trimester recap, you'll know I actually hated breastfeeding at first.
I was ready to have my body back to myself after birth. That wasn't the case when I had a baby attached to me nearly every hour of the day. Somedays I cherished this attachment, while other days I just wanted a break and a few moments to myself.
When I went back to work though, I missed breastfeeding. What began as a stressful, painful, and exhausting experience has turned into a relaxing bonding time that I didn't want to end.
And to be clear, it did not end. I still feed Shepherd in the morning, when I return home from work and/or before bed, and likely one or two times in the middle of the night. I still miss the times during the day though.
But, I was determined to continue pumping at work in order to keep my milk supply up and provide food for Shepherd's caregivers. As a dietitian, I know breastmilk is the best food for him. My hope is to supply it for him for as long as he needs/wants it. In order to keep my supply up, I need to pump regularly throughout the day.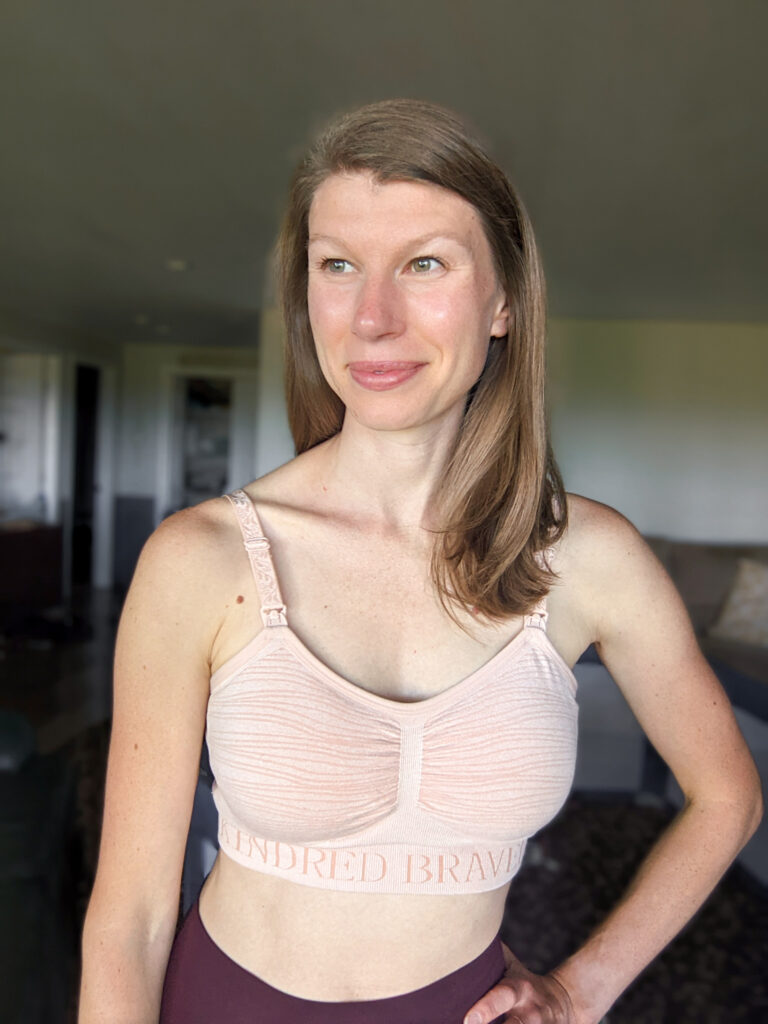 Pumping at work
Fortunately, my pumping experience has been made better by the fact that I do have my own office at work. I don't have to lock myself in a bathroom, or find my way to a creepy, unused storage closet three times a day. Plus, I have some dang good nursing and pumping bras. These bras from Kindred Bravely are the best pumping bras for work because they allow me to pump and continue working at the same time. Since these pumping bras are hands-free, I can even eat and work all while pumping. I don't have to stop what I'm doing, or spend my lunch break pumping. Instead, I can go for a walk outside and soak up the sun while it's still summertime!
One of them is sleeker, looks more like a normal bra, and is super comfortable to wear no matter which type of outfit I have on. I will even wear it on days I don't need to pump, only nurse. The other is incredibly supportive and holds my pump parts super well, and is my favorite for pumping. I love both for different reasons! They are also both easy to wear, high quality, and make pumping at work incredibly easy and stress free. This is absolutely key when pumping longterm, otherwise, it'd be easier to give up, reducing my milk supply. And I don't want to do that!
Additionally, not long after I returned to work, there was a formula shortage. My heart broke for all the parents and baby's relying on formula. This only fueled my fire to continue pumping as often as I could so I'd have reliable food for my baby. Good pumping bras are a necessity!
The best thing about going to work though, is coming home and seeing Shepherd's face light up when he sees me. Granted, he's usually just excited because he knows milk is coming, but I'll take it! Luckily, the Kindred Bravely bras I wear to pump at work also function as nursing bras. It makes for a very smooth transition from feeding to pumping leftover milk before I leave for work in the morning, and from pumping to feeding when I come home in the evening.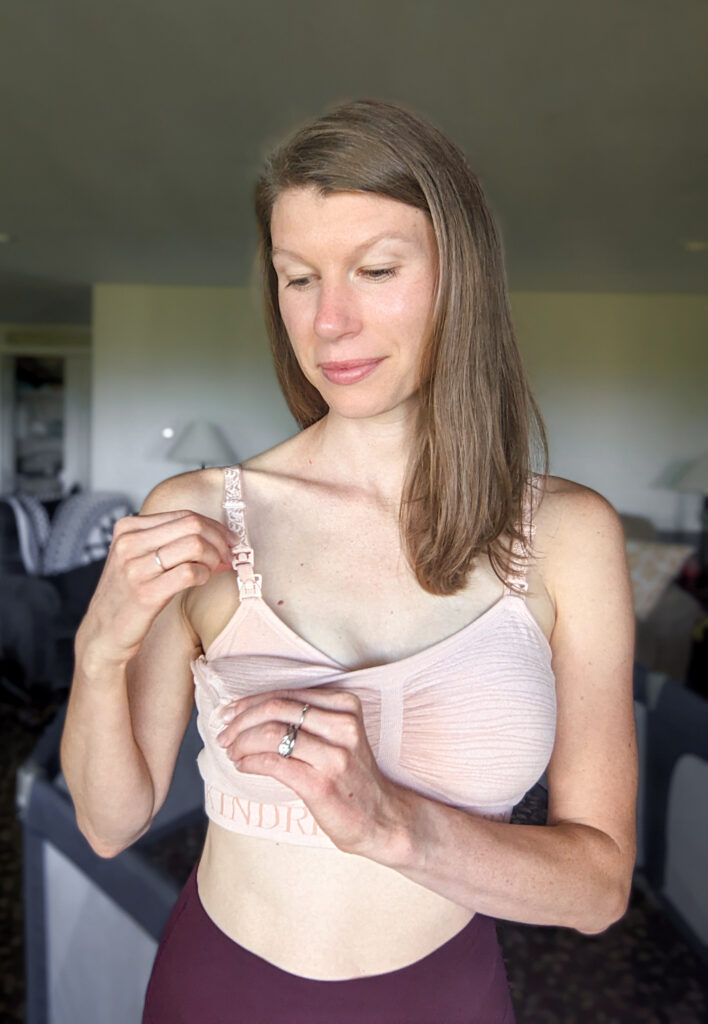 Milestones beyond the fourth trimester
My husband continues to comment how amazing it is that babies grow and develop so much just by drinking breastmilk. And it is! It's so wild that that (or formula) is all they need for six months to a year, and yet progress so quickly. It's so fun to watch Shepherd grow and learn new skills.
Right at three months he started rolling over, which meant we couldn't swaddle him for sleep anymore. Boy, was that a rough week. We weren't really prepared for him to do this so quickly (it all happened within a week). So, we had to switch to a sleep sack cold turkey. None of us slept well for about a week while he figured things out. But, then he finally started sleeping more than three to four hours at a time again, and turns out, he's a stomach sleeper just like us.
At five and half months he started crawling, which we were not expecting! That is pretty early for babies. Thank goodness for Amazon and this playpen. Letting him move around in a large space while we are able to use the bathroom without worry he'd get into something or hurt himself has been so helpful. We have an awesome pack n' play too, but he loves to move around! So, the playpen was a great investment.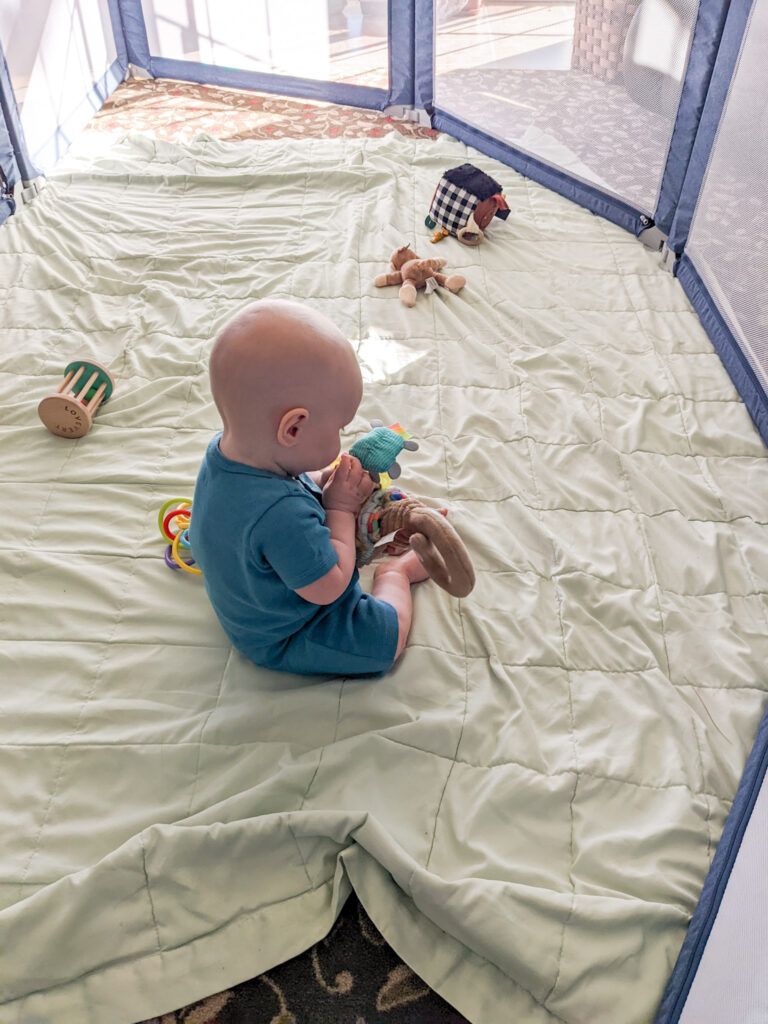 When he was six months old he began pulling up to stand, although a bit unsteadily. But, by seven months he was pretty confident. Now, at eight months he pulls up to stand on everything, and can even balance for a few seconds without support. While I know it will mean more busy days for me, I'm excited to watch him continue to grow and take his first steps!